Jesse Snares Memorable Xtreme Bulls Win at Lovington
by Tracy Renck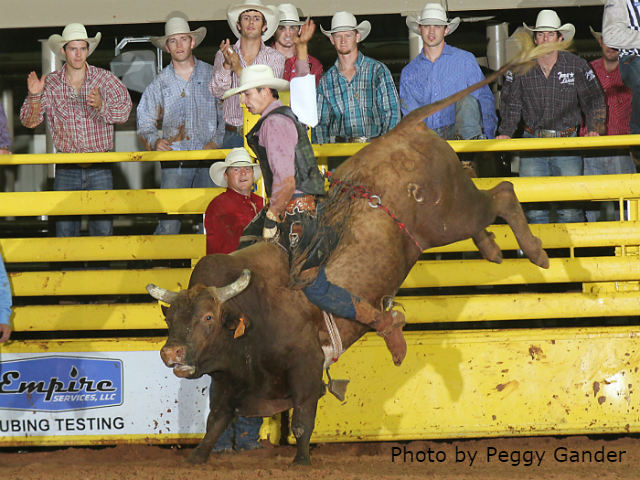 LOVINGTON, N.M. – Competing in a PRCA Xtreme Bulls Division 1 event can be a nerve-racking experience.
However, Colten Jesse, only 19 years old, never received that memo.
In his first career Xtreme Bulls Division 1 event, Jesse walked away a champion.
Jesse totaled 178.5 points to win the two-head average at the Lea County Fair & PRCA Rodeo Xtreme Bulls Aug. 9 at Jake McClure Arena.
"This feels awesome," Jesse said. "To get to go up against guys like Sage Kimzey and Brennon Eldred and win is great."
Since joining the PRCA Oct. 14, 2015, this by far is Jesse's career-best win. He earned $11,650 for his performance – $5,711 for capturing the average.
"For sure this is my biggest victory," Jesse said. "Being 19 years old and getting this huge Xtreme Bulls win is really cool."
Jesse joins the 2016 Xtreme Bulls Division 1 victory lineup which consists of Bobby Welsh (San Antonio, Texas, Feb. 27), Parker Breding (Fort Mohave, Ariz., March 12), Eldred (Reno, Nev., June 16). The Xtreme Bulls Division 1 Tour Finale is Sept. 3 in Ellensburg, Wash.
If Jesse was nervous at all it wasn't apparent in his first ride as he had an 88.5-point ride on Salt River Rodeo's Silence Reigns – on a re-ride – to win the round.
"That turned out to be a great bull and I made things work," Jesse said.
That put Jesse as the last rider out in the finals and before he climbed aboard Pete Carr's Classic Pro Rodeo's Lone Star, he knew he had one score to beat – reigning two-time PRCA world champion Kimzey's 169.5-point total which was atop the leaderboard.
"I had never been on Lonestar before, I just saw my buddy Lon Danley ride him at a rodeo earlier this season and he looked like a cool bull to ride," Jesse said.
He was for Jesse.
"That bull got kind of wild and got away from my hand away around to the right," Jesse said. "I was just trying to match him move for move and try and stay in the middle. I didn't even hear the whistle. I was kind of just fighting for position and by the time he threw me off I had been on him long enough. It can put pressure on a guy going out last, but I've always dealt well with high-pressure situations like that."
For more coverage of the Lea County Fair & PRCA Rodeo Xtreme Bulls Division 1 event, check out the Aug. 26 issue of the ProRodeo Sports News.
Courtesy of PRCA