Frost Wins Oakland Classic in his PBR Debut
By: Mandi McCary
January 06, 2019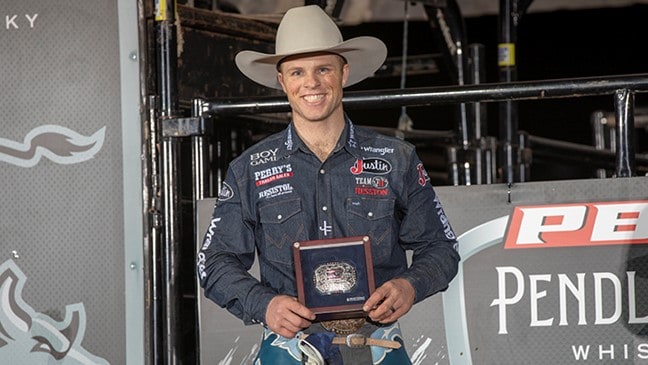 OAKLAND, Calif. – Making his PBR (Professional Bull Riders) Velocity Tour debut, Joe Frost (Randlett, Utah) had the electric California crowd on its feet Saturday night as he won the Oakland Classic inside of the Oracle Arena.
Following an 85.5-point ride aboard Bit A Bad News (Rocking Forty-Five Cattle) in Round 1 of the night, the five-time WNFR qualifier fired out of the chutes recording the highest score of the championship round with 87.5 points aboard High Razor (Humpz & Hornz). The win earned him 170 world points and a $6,100 paycheck.
In addition to winning the very first PBR event of his career, the Utah cowboy has also earned an invite to the upcoming Unleash The Beast Sacramento Invitational at Golden 1 Center on January 25-27.
Fellow Utah bull rider Kache Moosman (Price, Utah) finished second, collecting a paycheck for $4,400 along with 100 world points. He rode to the runner-up finish compliments of his 88-point ride aboard Pearl Pistol (Walking Lazy J Bull Team)and80 points on MJ Holey Kat (Flying U/ Cindy Rosser) in the championship round.
Third place went to seasoned Missouri cowboy Mason Lowe (Exeter, Missouri) for making the 8 on Hell Pony (Julio Moreno/ Dallas Schott) in Round 1 for 86 points. Later in the championship round, Lowe conquered Blowing Smoke (Humpz & Hornz) for 81.5 points. For his efforts he collected $3,150 and 55 world points.
Washington cowboy Cody Casper (Newport, Washington) finished fourth, backed by an 84-point effort on Gun Smoke (Rod Theiman) in the opening round. After conquering Rowdy (Flying U/ Cindy Rosser) for 81 points in the championship round, Casper leaves Oakland with $2,000 and 20 world points.
Rounding out the Top 5 was the riding sensation from the Navajo nation, Justin Granger (Tuba City, Arizona), who recorded an energetic 89-point ride in the opening round aboard Smoke Show (Humpz & Hornz). His matchup against Reindiction (Flying U/ Cindy Rosser) didn't make the 8 in the championship round but he collected $2,040 and 65 world points for his efforts.
Squirrel, a bovine athlete owned by Julio Moreno and Dallas Schott, took home the top spot for the evening. He received a 45-point bull score after firing out of the chutes and dispatching Scottie Knapp (Edgewood, New Mexico) in 2.67 seconds.
The Velocity Tour next travels to Reno, Nevada, for the Reno Invitational, on January 11-12.
Velocity Tour Event Results
Oakland Classic – Oracle Arena – Oakland, California
Name, Round 1-Round 2-Event Aggregate-Event Points
1. Joe Frost, 85.5-87.5-173.00-170 Points.
2. Kache Moosman, 88-80-168.00-100 Points.
3. Mason Lowe, 86-81.5-167.50-55 Points.
4. Cody Casper, 84-81-165.00-20 Points.
5. Justin Granger, 89-0-89.00-65 Points.
6. Jake Lockwood, 88.5-0-88.50-35 Points.
7. Wallace Vieira de Oliveira, 86-0-86.00-5 Points.
8. Cristiano Figueredo, 83.5-0-83.50
9. Scottie Knapp, 83-0-83.00
10. Cody Campbell, 82-0-82.00
(tie). Taylor Toves, 82-0-82.00
© 2019 PBR Inc. All rights reserved.