Josh Frost Nets $31,500 with X Bulls Win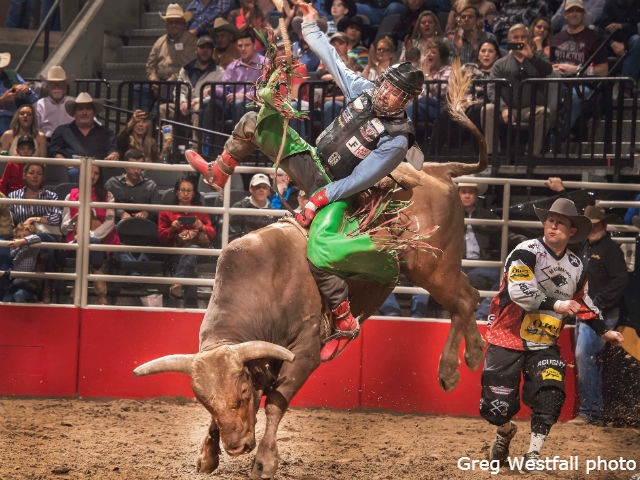 SAN ANTONIO – Josh Frost has April 13 circled on his calendar. That's the day he finishes student-teaching at South Summit High School and finishes his requirement to receive his degree in Agriculture Education from Oklahoma Panhandle State University.
At that point he'll be able to rodeo full time.
And after Saturday's impressive feat, the Utah cowboy will have a great chance to qualify for his first Wrangler National Finals Rodeo.
Frost scored 89 points on 4L & Diamond S bull Monte Walsh in the short round to win the San Antonio Stock Show & Rodeo Xtreme Bulls. Frost won $30,000 for the finals title and added another $1,500 for his ride in the first round.
"You dream about winning this rodeo," Frost said after his first Xtreme Bulls title. "I've been working really hard. I was ready to win. It's kind of a surreal moment standing out there getting the buckle. This is one of the toughest bull ridings in the world. A lot of the top guys are here and the best bulls are. The guys put on a heck of a bull ride. I'm honored to win this."
Frost, 22, wasn't in the Top 50 of the PRCA World Standings before the event. In fact, Frost's biggest win of the 2018 season before Saturday wasn't even in bull riding. He won $2,430 in tie-down roping in Heber City, Utah, in November.
Saturday's win should vault him into the Top 10 in the bull riding world standings, possibly into the Top 5.
"This will put me in the best winter I've had in my life and it's still the month of February," said Frost.
Frost knew next to nothing about his bull. And apparently neither did a lot of other people.
"I was putting my rope on the wrong bull at first," Frost said. "Joe, my brother, didn't know what he looked like either. But I was sure glad of what he ended up being."
Frost has been to only a handful of rodeos in 2018 because of his student-teaching. He's looking forward to finishing in order to get on the rodeo road full time.
"April 13, I'm done," Frost said. "I'll have my degree and I'm going rodeoing."
Other big money winners at the Xtreme Bulls event were Trey Benton III, who took home $21,500, and four-time PRCA World Champion Sage Kimzey, who collected $16,000 to add to his lead in the 2018 World Standings.
Courtesy of PRCA