K.C. Jones Heats Up with San Angelo Win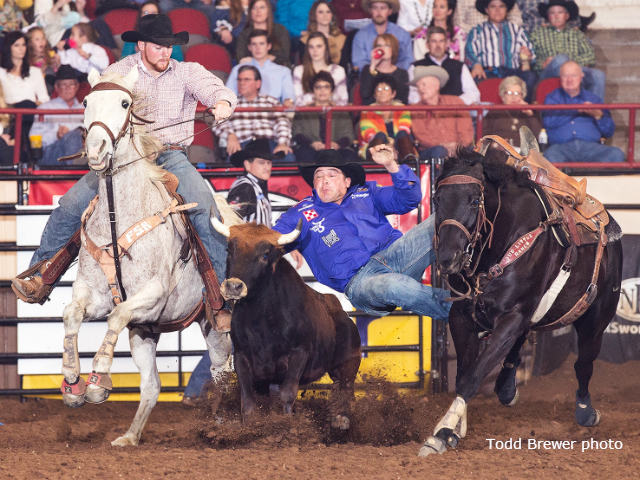 SAN ANGELO, TEXAS – Like a fine wine, K.C. Jones is improving with age. The talented 45-year-old steer wrestler enjoyed his finest season in 2015, and the Decatur, Texas, cowboy kick-started his 2016 campaign with a big win Friday night at the San Angelo Coliseum.
Jones capped a solid performance at the San Angelo Rodeo by winning the average with a time of 12.3 seconds on three head.
"I usually do better when it's hot, and it's been 75-80 degrees in Texas this week," Jones said.
He's won about everywhere since joining the PRCA in the 1996 season, and has produced more than $1.3 million in career earnings. Back then, the 5-foot-10 Jones weighed 180 pounds. Now, he weighs 212.
"I quit running," Jones said, partially explaining his increase in size. "If I'm running these days, somebody's shooting at me."
They were chasing him going into the final round at San Angelo, as he led the average with a time of 8.2 seconds on two head. He wrapped up the title with a solid 4.1-second run, bested only by Matt Reeves' run of 3.9 seconds.
Dakota Eldridge finished second to Jones in the average, a half-second behind.
Jones finished third in the 2015 world standings with $198,601. He's qualified for the Wrangler National Finals nine times (2002-04, 2006, 2008, 2012-15) and has a streak of four straight heading into this season. His other top 10 finishes came in 2002 (fifth) and 2006 (fourth).
But the veteran cowboy had a slow start to this season – until he reached the West Texas city of San Angelo.
"I think I've won here three times now," he said. "This is a really good rodeo. I've had some luck in that little Coliseum. It's a great crowd and they're right on top of you. The committee treats us great at this rodeo and that whole community is behind it."
He tied for third in the first round with a time of 3.9 seconds and went 4.3 in round two but failed to earn a check. Still, he led the average and closed the deal in style.
He gave much of the credit to his black mare, Smoker, who is owned by Jud Little.
"She worked really good for me, and makes it easy," Jones said. "I trust her."
At the 2015 WNFR, Jones rode Smoker to wins Rounds 1 and 5 and placed in four other rounds.
He also credited his hazer, Riley Butler, a young cowboy who Jones is mentoring.
"He's from Idaho and came down to help weld on our new place," Jones said. "We're bulldogging every day and he's doing well. We're trying to get him ready to go on the road and bulldog this summer."
Other winners at the $437,828 rodeo were bareback rider Jake Vold (177.5 points on two head), team ropers Spencer Mitchell and Justin Wade Davis (12.6 seconds on three head), saddle bronc riders Allen Boore and Rusty Wright (171 points each on two head), tie-down roper Caleb Smidt (25.0 seconds on three head), barrel racer Pamela Capper (44.18 seconds on three runs) and bull rider Dustin Bowen (87.5 points on one head).
Read more about the San Angelo Rodeo in the March 11 ProRodeo Sports News.
Courtesy of PRCA