Kastner Snares Sheridan Title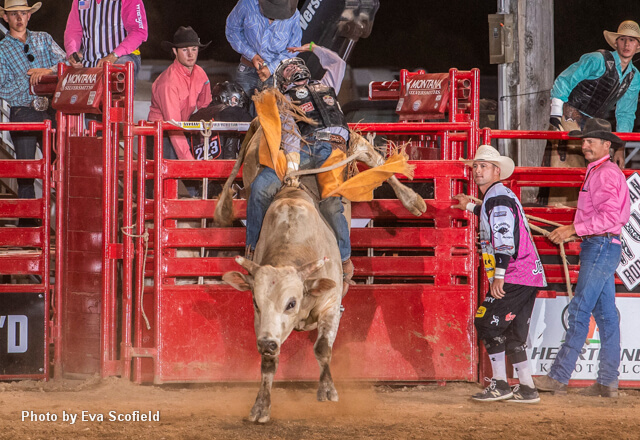 SHERIDAN, Wyo. – Cowboy Christmas essentially left a lump of coal in Trevor Kastner's stocking.
The veteran bull rider won a small check at the Greeley (Colo.) Stampede and nothing else.
"Cowboy Christmas was terrible for me, that eight-second rule got me," Kastner said with a chuckle.
Fortunately for Kastner, he didn't let his immediate past impact his present.
The Roff, Okla., cowboy won the Sheridan WYO Rodeo with an 89-point ride on Sankey Pro Rodeo & Robinson Bulls' Captain Moonlight.
"I had never seen that bull before, but I talked to a few buddies and they gave me an idea of what he was going to be," said Kastner, 30. "I didn't know if he was going to be quite that good. He did what they said, but maybe he was a little better this trip. He was a good, solid bull. He was in the gate to the right and I was happy to stay on, and it turned out well for me."
Kastner made his ride in Sheridan on July 12 and then had to wait to see if it would hold when the rodeo ended July 14. It did, and he earned $4,568 for his performance.
"It's great to win Sheridan," Kastner said. "Hopefully, this will help me get on a roll and start doing good again. Anytime you're in a slump and get one rode and be a decent amount of points it boosts your confidence back up."
Kastner was sixth in the July 9 PRCA | RAM World Standings with $64,794, and he will have to see where he settles when the new standings come out July 16.
Kastner, a three-time qualifier for the Wrangler National Finals Rodeo (2011-13), has a solid spot in the standings, thanks to a solid winter, highlighted by winning the Southwestern Exposition and Livestock Show in Fort Worth, Texas, Feb. 3, with a score of 251.5 points in the three-head average. Kastner left Fort Worth after earning $12,655.
This spring and summer Kastner's roll has slowed due to injuries. He missed two months after being injured during a ride March 15 at Rodeo Austin (Texas).
Kastner broke six ribs and suffered a Grade 2 laceration of the liver and a concussion when he was bucked off Beutler & Son Rodeo's Tombstone.
"I came back (in June) and at Weatherford, Texas, I broke two more ribs when a horn caught me," Kastner said. "I came back from Weatherford for the Fourth of July run. (Injuries) are just part of the game. I know there are going to be low times, but high times will follow. The plan is to get to the NFR and go out there and do some good."
Kastner is going to take a few days off to spend time with his family. He and his wife, Kate, had a baby girl, McKenna Mae, Feb. 14.
"I will be back out there July 19 in Ogden, Utah, but I'm looking forward to going to see my family and refresh a little bit," Kastner said.
Other winners at the $267,470 rodeo were all-around cowboy Trevor Brazile ($12,648, tie-down roping, team roping and steer roping); bareback riders Wyatt Denny, (88 points on Sankey Pro Rodeo & Robinson Bulls' Sozo) and Clayton Biglow, (88 points on Dakota Rodeo's War Rock); steer wrestlers Jesse Brown and Blake Mindemann (8.8 seconds on two head); team ropers Cody Tew/Nano Garza and Joshua Torres/Jonathan Torres (10.7 seconds on two head); saddle bronc rider Cody DeMoss (85.5 points on Sankey Pro Rodeo & Robinson Bulls' Black Box); tie-down roper Trevor Brazile (16.6 seconds on two head); barrel racer Katie Pascoe (17.16 seconds) and steer ropers J. Tom Fisher and Trevor Brazile (52.9 seconds on four head).
Brazile's all-around money total broke the previous rodeo record amount of $9,962, which he set in 2015.
For more coverage of the Sheridan WYO Rodeo, check out the July 27 issue of ProRodeo Sports News.
Courtesy of PRCA