Kastner's on a Roll at San Antonio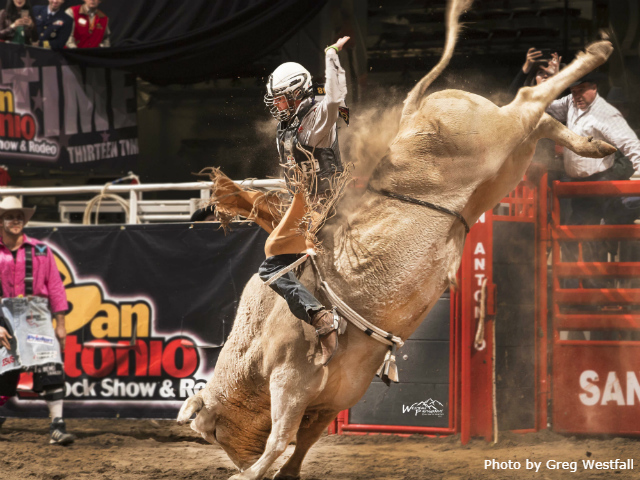 With $14,269 won so far at a single rodeo, bull rider Trevor Kastner's on a roll at the San Antonio (Texas) Stock Show & Rodeo. The 30-year-old, Oklahoma cowboy had the only qualified ride in the first two rounds and won the third round – all while he and his wife, Kate, await the birth of their first child, McKenna Mae.
"At San Antonio they take the best bull riders from the PRCA, so you expect them to stay on, so to be the only one to stay on for two rounds is really rare," Kastner said.
Kastner was already at the top of the 2018 PRCA World Standings with $34,700 won this season, not counting his San Antonio earnings.
Kastner's first ride was for 78 points on Four Star Rodeo's Hot Rod. Usually a 78-point ride isn't cause for excitement, but as the only cowboy to make eight seconds, it was worth $5,945.
"He just jumped and kicked down the chutes for a few jumps and then turned to the right," Kastner said, noting that he didn't know much about Hot Rod before the ride.
Kastner returned to the arena Feb. 9 to land a 91-point ride on Four Star Rodeo's Yellow Fever, which tied for the second-highest score so far for the 2018 season. As the only qualified ride for the second time in a row, Kastner was up to $11,891 won as the third round approached.
"That's a bull I'd seen two or three times and he's tough to get by," Kastner said. "I lucked out and stayed on him. … I don't think he has a set pattern, so it's jump by jump on him."
Competition heated up for the third round, but Kastner remained on top with his 85.5-point ride on Four Star Rodeo's The Bachelor.
Now Kastner has about 10 days until the semifinals, but there won't be much resting as his daughter is due Feb. 19. No matter when she comes, Kastner has every intention of being there for his daughter's birth.
"She's due any day now," Kastner said. "It's pretty exciting – I'm probably more excited about my daughter coming than I am about the rodeo, but both are exciting. I'll be there for the birth, if possible. I'm home now and if she (Kate) goes into labor, I'm going to drop what I'm doing and get home. Hopefully, she has her now before the semifinals."
Courtesy of PRCA