K.C. Jones Wins $6,196 at Greeley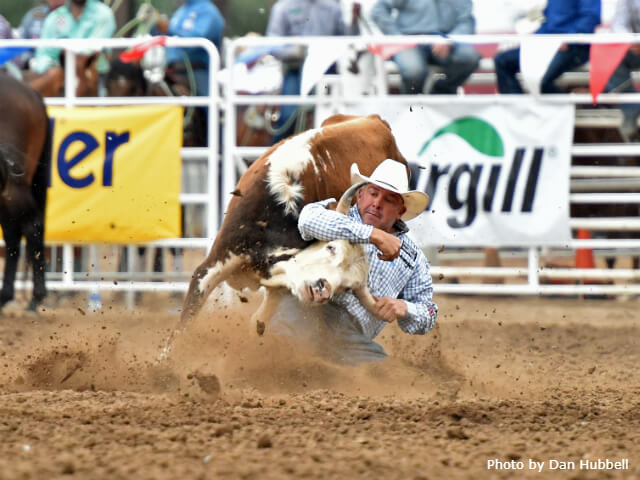 GREELEY, Colo. – K.C. Jones kicked off his Cowboy Christmas run by winning $6,196 at the Greeley (Colo.) Stampede, July 3.
"It's awesome because I'm not chasing it as hard now, and I'm helping guys go to the Finals," Jones said. "It's been a great career, and it's great to get them up (in the standings). I've won a lot of rodeos, and I had some I wanted off my bucket list. Greeley was at the top of the list."
Jones is traveling with fellow bulldoggers Will Lummus, Ross Mosher, Cody Cabral and Dane Browning.
Jones has been competing in the PRCA longer than some of his competition at Greeley has been alive. The La Junta, Colo., cowboy joined the PRCA in 1995 and has qualified for the Wrangler National Finals Rodeo nine times (2002-04, 2006, 2008, 2012-15).
"I feel good, I have an Anytime Fitness membership for when I'm on the road to stretch and work on old injuries from after 35 years of bulldogging," Jones said. "I'm not a big guy, so I drink protein and lift weights, too. They (the competition) are big and athletic, so I'm tickled to get a rodeo from them."
Despite having a long list of wins during his career, Jones had never won Greeley.
"I'm 47 now, so I've been coming here for 35 years," Jones said, noting that he's had better luck with tie-down roping than steer wrestling at Greeley. "It's such a great rodeo, and it pays so good that you keep coming back."
Jones entered the final round tied for second in the average with 10.2 seconds. Tyler Pearson led at 9.2. Fortunately, Jones was familiar with his draw before the final round and knew there had previously been a 5.6-second run, a 6.4 and a no-time on the steer in Greeley.
"He didn't have a great record, but he looked cute, so I thought he'd want to win Greeley," Jones laughed.
Jones came out ahead of the pack by one-tenth of a second with 14.6 seconds on three head.
Before winning Greeley, Jones wasn't listed in the Top 50 for steer wrestling in the 2018 PRCA | RAM World Standings, but he did win steer wrestling at the Hugo (Okla.) PRCA Rodeo, June 2.
"Anytime you win Greeley you win a lot (of money), it's a (Wrangler ProRodeo) Tour rodeo and you get points, too," Jones said. "We'd been to 11 rodeos this week, and there are a lot of expenses. We have five guys in the rig, and with rodeo you have to win. It's a big gamble. You're betting that you can beat the rest of the guys and have to do good to keep going."
While competing, Jones had a patch on his hat commemorating Teigen Finnerty, a 21-year-old steer wrestler who died in May.
"One of my motivations was to do this for Teigen," Jones said. "He was one of a kind, and all he wanted to do was bulldog and would do anything for anyone. He's gone now, but not forgotten."
As for the road ahead, Jones plans to help his four traveling partners qualify for the Wrangler NFR.
"I've been there enough, but I really enjoy training horses and watching them win," Jones said. "That's the satisfaction I get now. That fuels me more than seeing my name in the standings, but it does feel good."
Other winners at the $327,945 rodeo were all-around cowboy Trell Etbauer ($9,232 in tie-down roping and steer wrestling), bareback rider Tim O'Connell (168 points on two head), team ropers Garrett Tonozzi/Joe Mattern (17.4 seconds on three head), saddle bronc rider Wade Sundell (172.5 points on two head), tie-down roper Caleb Smidt (17.0 seconds on two head), barrel racer Tracy Nowlin (34.55 seconds on two runs) and bull rider Sage Kimzey (170.5 points on two head).
For more coverage of the Greeley Stampede, check out the July 13 online issue of ProRodeo Sports News at prorodeo.com.
Courtesy of PRCA