Kerr, McCracken Among Award Winners for 2017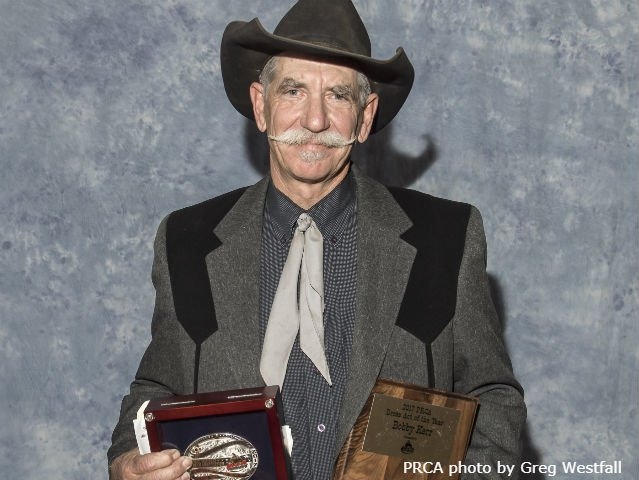 Persistence paid off for Bobby Kerr and Gizmo McCracken, as they respectively won the Dress Act of the Year and Comedy Act of the Year awards at the PRCA's annual awards banquet at the South Point Hotel, Casino & Spa's Grand Ballroom on Dec. 6 in Las Vegas.
Both men had been perfecting their performances for many years and had been nominated several times before finally winning.
"It's an honor," McCracken said. "I started when I was 15 (years old) and have been doing it 41 years, and that is longer than some of these guys are old, and I'm tickled to death to be in the Top 5."
McCracken had been nominated seven times for the Comedy Act of the Year award before winning it in 2017.
"I never thought I would win anything like this," McCracken said, noting that he doesn't do it for the awards and that it's simply a lot of fun.
Kerr's journey toward winning the Dress Act of the Year picked up steam in 2011, a few years before joining the PRCA, when he was voted Fan Favorite in the 2011 Supreme Extreme Mustang Makeover and placed fourth on his horse Poncho and fifth on Lefty.
"At the time, I was driving a truck and a friend took us to the 2010 Mustang Makeover and I was flat broke, so I took a stab at it," Kerr said.
The following year, Kerr won the Legends division of the Supreme Extreme Mustang Makeover on Maypop and was voted Fan Favorite.
"It takes lots of training," Kerr said. "I try to do my homework and God blessed me with some good critters."
In 2013, Kerr placed second and third in the Mustang Million, and he and Poncho were guests on Good Morning America, promoting the NatGeo Wild mini-series Mustang Millionaire, where Kerr was a featured cast member.
"When I won it, people like Cotton Rosser started calling me to perform at rodeos," Kerr said.
Kerr has been performing as part of the PRCA for four years with his highly trained horses and dog, showcasing what mustangs are capable of doing.
"You come up with an idea and study how to do it and get the horse to be your buddy," Kerr said. "The biggest thing is the trust and bond. Horses will do anything for me if I show them the right way."
By 2015, Kerr found himself nominated for the PRCA Specialty Act of the Year award, and was nominated again in 2016 when he was a specialty act at the Wrangler National Finals Rodeo presented by Polaris RANGER.
"It changed my life," Kerr said. "I just turned 60 years old and anything can happen."
Award winners
• Massey Ferguson Sowing Good Deeds Committee – Clovis, Calif.
• John Justin Standard of the West Committeeman of the Year – Steven Money with the Spanish Fork, Utah, rodeo
• PRCA Media Awards Excellence in Rodeo Photography – Roseanna Sales
• PRCA Media Awards Excellence in Rodeo Print Journalism – Neal Reid
• PRCA Media Awards Excellence in Rodeo Broadcast Journalism – Dan Weinberg and Greg Trager, CBS Sports Network
• Polaris RANGER Remuda Awards – Kennewick, Wash., PRCA Rodeo Committee; and Korkow Rodeo
• Zoetis PRCA Veterinarian of the Year – Dr. Jerry Billquist
• Coors Man in the Can – John Harrison
• Pickup Man of the Year – Gary Rempel
• Music Director of the Year – Josh (Hambone) Hilton
• Clown of the Year – Justin Rumford
• Secretary of the Year – Amanda Corley-Sanders
• Dress Act of the Year – Bobby Kerr
• Comedy Act of the Year – Gizmo McCracken
• Small Rodeo of the Year – Claremore, Okla.
• Medium Rodeo of the Year – Deadwood, S.D.
• Large Indoor Rodeo of the Year – San Antonio, Texas
• Large Outdoor Rodeo of the Year – Pendleton, Ore.
• Bullfighter of the Year – Dusty Tuckness
• Announcer of the Year – Bob Tallman
• Stock Contractor of the Year – Frontier Rodeo
• PRCA Donita Barnes Contract Personnel Lifetime Achievement – Jim and Julie Sutton
• AQHA Horses of the year – Simon Cow "Si," owned by Shane Hanchey (tie-down roping); Canted Plan "Scooter," owned by Tyler Pearson and Kyle Irwin (steer wrestling); Madison Oak "Clint," owned by Chad Masters (team roping heading); Zan Colonel Shine "Colonel," owned by Jake and Tasha Long (team roping heeling); Carols Sassy Doc "Salty," owned by John Bland (steer roping); Rafter W Minnie Reba "Sister," owned by Sam Williams (barrel racing)
• Pendleton Whisky Let 'er Buck Bucking Stock of the Year – Virgil, C5 Rodeo (Bareback); Wound Up, Beutler & Son Rodeo (Saddle Bronc); Sweet Pro Bruiser, D&H Cattle (Bull)
Courtesy of PRCA