Ketscher Wins Hometown Clovis Rodeo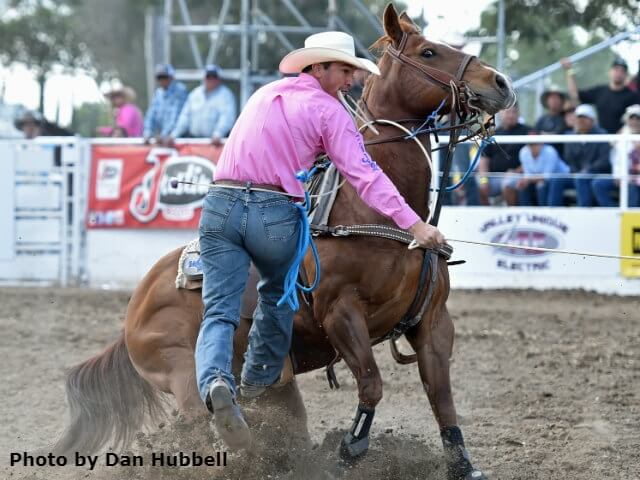 CLOVIS, Calif. – Jordan Ketscher is a confident cowboy right now. And that's because of a horse named Mouse.
Ketscher and his 14-year-old, American Quarter Horse teamed up for a hometown victory Sunday, winning the tie-down roping average at the Clovis (Calif.) Rodeo, April 27-29, in 38.2 seconds on four head.
Ketscher, 28, had plenty of family on hand throughout the weekend, including aunts and uncles and grandparents. They didn't have far to go to get to the rodeo. Ketscher lives about 30 miles from Clovis and graduated from Fresno State College, which is basically next door to the rodeo.
"It's pretty special," said Ketscher, who took home $6,465. "Going there during high school, going up to the rodeo and watching the guys who've won before, knowing how big of a rodeo it is, to show up a few years later to get the win was pretty cool."
Ketscher, who entered Clovis 19th in the 2018 RAM PRCA World Standings with $17,180, started the rodeo off right with a 9.1-second run in the first round to take second. His second run ended in 10.1 seconds. He finished sixth in the third round in 9.4 and third in the finals in 9.6, finishing in 38.2 seconds on four head, two-tenths of a second faster than Clint Robinson.
Ketscher redirected most of his success to Mouse, whom he bought last year.
"Clovis is kind of a big arena," Ketscher said. "You dang sure have to run them down. He (Mouse) has a lot of speed. He makes my job easy. The majority of it is him because he works so well. He makes roping easy."
Mouse has helped Ketscher get into a good position this season.
"Just being comfortable with my horse and knowing what I'm going to have when I back in the box every time," Ketscher said about his success. "… Mostly I feel like it's my horse and how he's working. It's everything to me. If you don't back in with that feeling, things can head south in a hurry. You've just got to back in there and knowing he's doing his job, you've got to focus on doing your job."
By winning nearly $6,500, Ketscher earned more than a third of what he'd already raked in for the 2018 season.
Not only did he take in a good haul in cash, he netted some valuable points in the Wrangler ProRodeo Tour.
"With the tour system, you know that they've got points and you don't try to think about it, you try to put it in the back of your mind but it's there," Ketscher said. "You want to get those points. It's fortunate for me to pick a lot of those up today and set it up for the rest of the season."
Last year, Ketscher finished 39th in the world standings. The year before he finished 34th. With Sunday's win and his previous earning in 2018 (including more than $11,000 at the San Antonio Stock Show & Rodeo), Ketscher is expecting to rodeo hard this summer in hope of qualifying for his first Wrangler National Finals Rodeo.
"I think I've got enough won," he said, "to keep going and see if I can keep on a roll, hopefully end up at the Finals."
Other winners at the $287,417 rodeo were bareback rider Steven Dent (86 points on Corey & Lange Rodeo's Paradise Moon); steer wrestler Tyler Waguespack (18.7 seconds on four head); team ropers J.B. James Jr./Cesar de la Cruz (28.1 seconds on four head); saddle bronc rider Jake Wright (87 points on Burch Rodeo's Lunatic From Hell); barrel racer Hailey Kinsel (50.79 seconds on three runs); bull rider Koby Radley (89.5 points on Bridwell Pro Rodeo's Hou's Bad News).
For more coverage of the Clovis Rodeo, check out the May 4 online edition of ProRodeo Sports News.
Courtesy of PRCA