Kid Rock Tickets on Sale Thursday February 16th at 10am
Big Week Kick Off Concert Friday July 14th at Salinas Sports Complex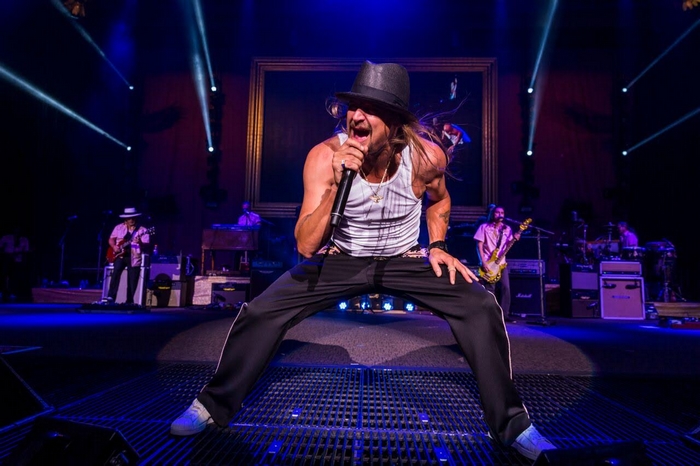 SALINAS, CA, February 15, 2017 – Tickets for the July 14th Kid Rock Concert presented by Taylor Farms go on sale this Thursday February 16th at 10am. Kid Rock is a multi-platinum award-winning American rock 'n roll icon whose musical style ranges from hip hop and rock to heavy metal and country and has sold over 26 million albums around the world. An opening act will be announced and gates will open at 5pm on Friday July 14th at the Salinas Sports Complex.
Ticket prices are: $20 for Upper Grandstand, $35 for Lower Grandstand, $75 for Box Seats, $75 for Reserved Floor and $75 for Standing Floor Seats. All tickets are subject to applicable fees. Tickets can be ordered by visiting the Salinas Sports Complex Box Office Thursday February 16th or Friday February 17th from 10am to 6pm. Tickets will be available online at tickets.com starting February 16th at 10am until the day of the show or tickets sell out. The Salinas Sports Complex Box Office opens full time for the 2017 season on March 27th. At that time Kid Rock, Monster Jam, Professional Bull Riding and California Rodeo Salinas tickets will all be available for walk up purchases at 1034 N. Main Street between 10am and 6pm Monday through Friday as well as online at tickets.com.
Following the release of his latest studio album First Kiss, Kid Rock embarked on his $20 First Kiss: Cheap Date summer tour that sold over 650,000 tickets over 40 shows including the record breaking 10 sold out nights in his hometown of Detroit. The multi-instrumentalist has made hits across genres, from rap and rock in the '90s with singles "Bawitdaba" and "Cowboy," to country with "Picture," a collaboration with Sheryl Crow that charted No. 4 on the Hot 100. Rock's 2007 album featuring the song "All Summer Long," charted at No. 1 in eight countries across Europe and Australia, and the music video received more than 48 million views on YouTube. Rock has consistently released albums since 1990, many of them going platinum and multi-platinum with spots in the Top 10. Visit www.carodeo.com/events/2017/kidrockconcert for information and a direct link to purchase tickets.
The exclusive TV Partners of the Kid Rock concert are KSBW 8 and Central Coast ABC. Watch KSBW Action News 8 for exclusive coverage of the stage build, concert and more. The Hippo (KHIP) and KTOM 92.7FM are the radio partners supporting this legendary show. Other sponsors include:
Presenting Sponsor – Taylor Farms
Official Tequila – Tequila Alderete
Official Beer – Coors
Official Vehicle – My Chevrolet
Diamond Album Sponsor – Sturdy Oil
Platinum Album Sponsors –
Warren Wayland
American Door & Gate
Fresh Foods, Inc
Gold Album Sponsors–
Pendleton Whisky
Pacific Ag Rentals
Ace High Designs
Bengard Ranches
Smith Family Wines
About California Rodeo Salinas
The 107th California Rodeo Salinas will take place July 20th-23rd, 2017. The California Rodeo Association is a non-profit organization that strives to preserve and promote the traditions of the California Rodeo Salinas and the West. We support the community and other non-profit organizations through the staging of the annual California Rodeo Salinas and other year round operations of the Salinas Sports Complex. Through donation of our facility, vending and fundraising opportunities during Rodeo and other events, the California Rodeo Association returns over $300,000 annually to local non-profits. For more information about the California Rodeo Salinas, log on to www.CARodeo.com or call the California Rodeo Office at 831-775.3100. -'Like' the California Rodeo on Facebook at www.facebook.com/CARodeoSalinas or follow us on -twitter @CaliforniaRodeo for updates, photos and more.