Knowles Doubles his Pleasure in Caldwell
by Tracy Renck | Aug 21, 2016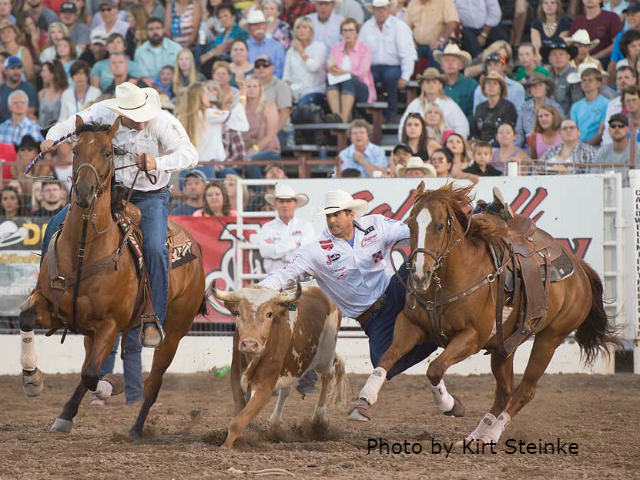 CALDWELL, Idaho – Twice was quite nice for steer wrestler Trevor Knowles.
For the second year in a row, Knowles left the Caldwell Night Rodeo a champion.
Knowles won the championship with a time of 14.3 seconds in the three-head average Aug. 20.
"It's always good to win Caldwell," Knowles said. "It's a great rodeo with awesome fans and a good atmosphere. It's good to win it no matter what, but especially this year because I'm kind of outside the top 15 right now. This is a good time to get a victory and get things rolling."
Knowles was 18th in the Aug. 22 WEATHER GUARD® PRCA World Standings with $37,503. He was trailing Cody Cabral, who was in the No. 15 spot, by $4,956.
Knowles, however, is sure to move up the standings after earning $5,584 at Caldwell. The Mount Vernon, Ore., cowboy has qualified for the Wrangler National Finals Rodeo presented by Polaris RANGER 12 times (2004-15).
Not only did Knowles claim the coveted victory at Caldwell again, but he also did it in grand style, winning the finals with a 3.9-second run.
"I didn't really know what everybody else was doing, but my plan was to get a great start and make a good run," Knowles said. "I came in fifth (in the short round) and I thought if I had a good run, I could win the short round and maybe take second or third in the average. Fortunately, some of the other guys who were ahead of me messed up and let me go ahead and win it."
Fueling Knowles' performance was the horsepower provided by Earl. Earl, 20, tied for second in the 2014 AQHA/PRCA Horses of the Year voting in steer wrestling.
"Earl is just solid," Knowles said. "He got sick after the first two rounds here (at Caldwell) and spent a week at the vet and I was real tickled to get back on him. I've had Earl for a while and we click good together. He will not keep you from winning. He gives you everything he has got every time and let's you go do your job."
The journey to a Caldwell Night Rodeo win was all part of a roller-coaster season for Knowles.
"It has been one of those years," Knowles said. "Earl got hurt after Redding (Calif.) and he had to take five weeks off and I rode my other horse (Willy, 12) for a couple of weeks and then Willy got run through a fence by mountain lions and then I got Earl back. I've been riding Earl and Willy on and off and I will probably finish the year off on Earl and try to keep doing some winning. I feel like right now, I'm bulldogging as sharp as I ever have."
Other winners at the $293,133 rodeo were all-around cowboy Paul David Tierney ($4,110, tie-down roping and team roping), bareback rider Richmond Champion (168.5 points on two head), team ropers Colby Lovell/Travis Graves (17.6 seconds on three head), saddle bronc rider Zeke Thurston (169.5 points on two head), tie-down roper Tyson Durfey (26.0 seconds on three), barrel racer Sherry Cervi (52.10 on three runs), and bull rider Jeff Askey (85.5 points on D & H Cattle's Savage Moves).
Courtesy of PRCA