Landingham Continues Rise Toward WNFR
by Justin Shaw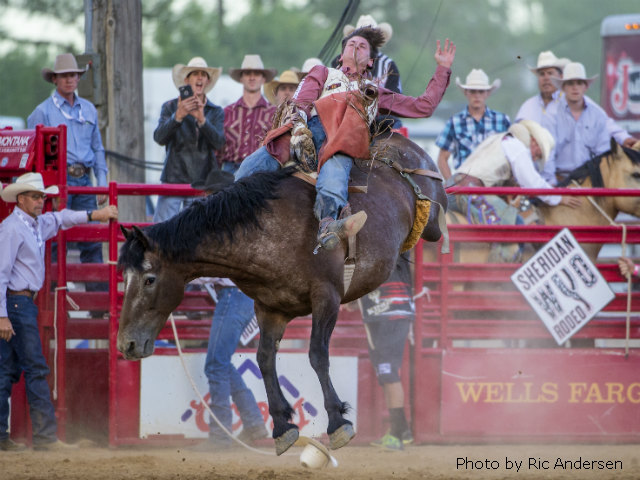 SHERIDAN, Wyo. – Bareback rider R.C. Landingham wasn't physically in the arena at the final performance of the July 13-16 Sheridan WYO Rodeo, but that didn't mean he wasn't watching.
The 25-year-old was streaming the Saturday night perf on the Wrangler Network, hoping his 85-point ride on Sankey Pro Rodeo & Robinson Bulls' Sodoku from July 13 would hold up.
It did, and Landingham grabbed the biggest win of his 2016 season in the process.
"I placed in Sheridan about six years ago, but never really had much luck there," Landingham said. "It's always good to win a big check – I've won tiny checks all year, so this one is really nice."
While most winning rides make a cowboy want to jump off the horse and celebrate, that wasn't the case for Landingham. He and Sodoku had quite a battle, and fortunately for the Paso Robles, Calif., cowboy, he won.
"That horse wasn't very fun at all because he had a lot of moves and was tough to ride," Landingham said. "I didn't know when I got off the horse if I was going to be 75 or 85. Usually you have an idea of what your score will be, and this was a rare time where I had no clue."
Landingham earned $5,224 for the victory, which will put him close to $70,000 won this season. That amount is more than he's won in any season during his six-year PRCA career.
He's hoping the bad luck which has plagued him the last three seasons is finally in the rearview mirror.
During his quest for his first trip to the Wrangler National Finals Rodeo, Landingham finished 16th in the world in both 2013-14, and then was 19th last season.
"Having a season like this makes everything I've gone through the last few years worth it," he said. "I wouldn't be where I am now if it wasn't for those seasons, and it's made me push myself harder and rodeo smarter. I learned so much during those years. My goal going into those seasons was to make the Finals, but now I switched my goal to winning the world, and that change in mindset has made a difference."
Landingham says having nearly $70,000 won with two and a half months left in the regular season will allow him to rodeo less, stay healthier and not stress about being on the bubble.
The key to his big 2016 campaign has been earning checks at most rodeos he's competed. He was sixth in the WEATHER GUARD® PRCA World Standings entering the weekend.
"I had the best winter of my career this year, and I placed at like 25 rodeos in a row from last September through March of this year," he said. "It becomes easier mentally when you can ride like that, and I told my stepdad this spring that it was starting to become easy. Then I went out and messed up on the next horse and jinxed myself. You always have to stay focused."
If he continues to ride this way, there will be no question that Landingham will be of the 15 men competing at the WNFR this December.
Other winners at the $263,668 rodeo were all-around cowboy Cody Collins ($2,162 in team roping and tie-down roping), steer wrestler Dean Gorsuch (7.2 seconds on two head), team ropers Luke Brown and Jake Long (10.1 seconds on two head), saddle bronc rider Joe Lufkin (85.5 points on Sankey Pro Rodeo & Robinson Bulls' Hermit), tie-down roper Cooper Martin (18.6 seconds on two head), steer roper Rocky Patterson (49.1 seconds on four head), barrel racer Ivy Conrado (17.22 seconds) and bull rider Tyler Smith (89 points on Sankey Pro Rodeo & Robinson Bulls' Big Tex Rocks).
For more coverage of the Sheridan WYO Rodeo, check out the July 29 issue of the ProRodeo Sports News.
Courtesy of PRCA