Lee Family Reflect on What Joining the 500 Club Means
By: Justin Felisko
March 29, 2016
PUEBLO, Colo. – Dana Lee begins to twist the large gold ring around her finger on her right hand as she ponders the thought of what 500 qualified rides on the Built Ford Tough Series will mean to her husband, Mike Lee.
"I think he is, but I don't think he will ever use the word proud," Dana said. "Because proud for him is boastful, and he is so humble that that word loses meaning on him, but I think he is thankful for it. He is definitely thankful for it. I don't think he really realizes what it is. I don't think he will believe it until someone actually says what it is."
Mike heads into this weekend's First Premier Bank/Premier Bankcard Invitational six rides away from 500 qualified rides on the BFTS, a club currently exclusive to Guilherme Marchi.
He will not be able to reach the milestone inside the Denny Sanford Premier Center, where he won the inaugural Sioux Falls event, but with five BFTS events remaining he has a good chance of reaching the mark before the summer break.
Yet as Dana begins to think about her husband's upcoming career-landmark she pauses and takes off the ring.
It is important to note that the ring in question is not the couple's wedding ring. Instead, it is Mike's PBR World Finals qualifier ring, which he earned in 2002 for qualifying for his first Finals.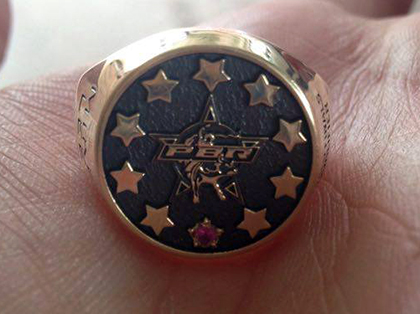 The Lees recently found the ring in a storage unit, and when they did, Dana got to thinking.
The Long Island native points at the ring and says, "I am still learning about what Mike Lee is," she pauses and smiles. "I had no idea. I married a man that I didn't know this whole past. I knew he was a good bull rider, clearly, but I didn't know the severity of how good it was to be on tour from 18 to 32. New guys come in and leave and new guys come in and leave and he is still here. He has been on tour and has made it to the Finals every year. I never understood the magnitude of it because it was so commonplace, but it is a big deal. It is a very big deal. He has gone to every one."
The gravity of the situation caught her by surprise.
Not only is Lee, who turns 33 in June, on pace to reach the 500 career-ride mark, the current No. 16 ranked bull rider is also on pace to qualify for the Built Ford Tough World Finals a 15th consecutive season – the most among active riders.
"It is a totally different sport when you get older," Mike said. "A lot of mental things go through your head and you have to make things simple and just get it back to where it is a fight. Fighting is easy for an old man. It is just the beforehand mental game is the hard part."
Marchi, the 2008 World Champion, currently leads the PBR in all-time rides with 557 and has qualified for 12 straight Finals since debuting in 2004. Even for such an accomplished rider, Marchi still remembers his rookie season where he watched Lee became the first rider to win the World Finals event title and the World Championship in the same season.
"I remember my first year here in 2004," Marchi said. "He was only a kid. He was 21 and he rode so good. He rode everything and was so quiet. He was so strong and he didn't care about the bulls. He ride easy. I said, 'Man, that guy was good.' He could ride every colored bull."
And ride them he has.
When factoring in minor league statistics, BlueDEF Tour numbers, and countless practice bulls he has attempted for his neighbors in Texas, Lee easily already has over 1,000 rides and 2,000 outs as a bull rider.
According to ProBullStats.com, Lee is 801-for-1616 (49.57 percent) at all levels of competition. In comparison, Marchi is 627-for-1109. ProBullStats, however, does not have results for any events Marchi has competed in Brazil. For riders like Lee and Marchi, not getting on a bull during the week would feel strange.
Just this past weekend, Lee competed at two bull ridings during the BFTS break.
Lee went a combined 2-for-4 at the Perkins, Oklahoma, and Stephenville, Texas, Touring Pro Division events. Lee's 85.5-point ride on Splinter helped him finished tied for second-place in Stephenville, good for 25 points in the world standings.
The dirt is just the office for Mike. Quite frankly, it would not be wrong to say the dirt is just his nature.
"It is not a matter if, it is just where," Dana said. "Where am I going this weekend? And when he doesn't go on a weekend, he is lost. He doesn't know what to do. He is confused if he is home on a weekend. He then just goes to work. He puts his head down and goes to work putting a fence down on a property. He doesn't stop."
Mike has posted two qualified rides in back-to-back weekends. Albuquerque was Lee's first two-ride weekend in nine BFTS events, a good sign going into Sioux Falls.
"If you really want to do this for a living, and you are where we are at, you are going to do whatever it takes to turn things around," he said.
Which brings us back to Dana, who now has a better answer on what reaching the 500 plateau will mean for her husband.
"Five hundred rides to Mike is let's go get on another," she said. "That is let's go do 501. It is really let's do more. Retirement isn't a thing in his mind. That isn't a thought. It isn't a glimmer of anything.
"He just wants to keep going and get on the next bull."
Follow Justin Felisko on Twitter @jfelisko
© 2016 PBR Inc. All rights reserved.