LeMond's Team Roping Horse Goose Passes Away
y ProRodeo.com | Oct 18, 2016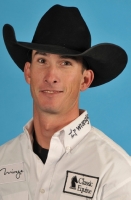 COLORADO SPRINGS, Colo. – JoJo LeMond, a four-time qualifier for the Wrangler National Finals Rodeo as a team roping header, was dealt a blow Oct. 1 when his team roping horse Goose passed way.
Goose, 13, was humanely euthanized due to leg injuries he sustained in an accident involving the trailer he was riding in near Big Spring, Texas.
JoJo's wife, Blair, was driving the truck and trailer while taking the family's three children, sons Newt, 10, and Gunnar, 6, and daughter Shaylee, 8, to a junior rodeo in Sweetwater, Texas. JoJo was competing at the Fort Bend County Fair & Rodeo in Rosenberg, Texas, at the time.
"I really don't know how the accident happened; she said she was just driving and all of a sudden there were sparks behind her and the trailer turned over with the horses in it," JoJo said. "It sucks (that Goose passed away), but thankfully my family is OK."
Red Rock, his son's calf horse, was the other horse in the trailer, and survived the accident.
LeMond bought Goose a year ago, and used him at the 2015 Wrangler National Finals Rodeo presented by Polaris RANGER, and this past season, when he finished 26th in the world standings.
LeMond was an injury replacement for Jake Barnes at the 2015 WNFR. Roping with Junior Nogueira, and riding Goose, he helped the team place in eight rounds; they finished third in the average. LeMond finished seventh in the WEATHER GUARD® PRCA World Standings.
LeMond did qualify for the 22nd Clem McSpadden National Finals Steer Roping Nov. 11-12 in Mulvane, Kan. He finished 13th in the regular-season standings with $41,460, and will be making his third trip to the NFSR, as he also went in 2013 and 2015.
Courtesy of PRCA