Let'er Buck at the Pendleton® Whisky Tasting on Friday April 1st
Sample the Official Spirit of the California Rodeo Salinas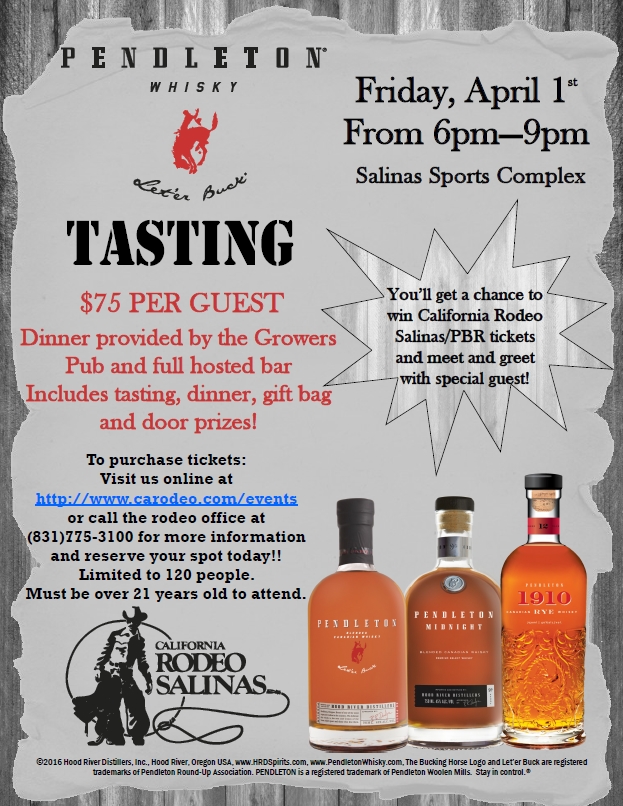 February 17, 2016 – Salinas, CA – The California Rodeo Salinas and Pendleton Whisky invite you to the Pendleton Whisky Tasting on Friday April 1st, 2016. The event will allow patrons to sample the smooth taste of Pendleton Whisky while learning more about the product, mingling with friends and eating great food. The evening starts at 6:00pm and will include a hosted bar, full steak dinner prepared by The Grower's Pub, whisky tasting, a swag bag, music and more.
The cost is $75 per person and tickets can be purchased starting Thursday February 18th at 10am at www.carodeo.com or by calling 831-775-3100 Monday-Friday between 9am and 5pm (closed Fridays only at lunch). The Pendleton Whisky Tasting will take place in the Rodeo Room at the Salinas Sports Complex at 1034 N. Main Street in Salinas and is limited to 120 people. Must be over 21 years old to attend.
Connect with the California Rodeo Salinas on Facebook for event updates and more.
About Pendleton Whisky
Pendleton® Whisky is imported, bottled and marketed by Hood River Distillers of Hood River, Ore., and is available nationwide. The oak barrel-aged whisky uses glacier-fed spring water from Oregon's Mt. Hood and is known for its uncommonly smooth taste and rich, complex flavor. Pendleton Whisky is the official spirit of the Professional Rodeo Cowboys Association (PRCA), and the presenting sponsor of the All American ProRodeo Series, which includes 400-plus PRCA rodeos.
About Hood River Distillers
Founded in 1934 and headquartered in Hood River, Ore., Hood River Distillers is the Northwest's largest and oldest importer, distiller, producer, bottler, and marketer of distilled spirits. Pendleton® Whisky, Pendleton® 1910 Rye Whisky, Pendleton® Midnight Whisky, Trail's End® Kentucky Straight Bourbon Whiskey finished with Oregon Oak, Sinfire® Cinnamon Whisky, Yazi® Ginger Vodka, ULLR® Nordic Libation, HRD® Vodka, Lucid® Absinthe Supérieure, the complete line of Monarch® distilled spirits and the Clear Creek Distillery portfolio are just a few of the company's brands distributed across the country. Hood River Distillers is a member of the Foundation for Advancing Alcohol Responsibility and promotes responsible drinking habits. For more information, visit www.hrdspirits.com.
About the California Rodeo
The 106th California Rodeo Salinas will take place July 21st-24th, 2016. The California Rodeo Association is a non-profit organization that strives to preserve and promote the traditions of the California Rodeo Salinas and the West. We support the community and other non-profit organizations through the staging of the annual California Rodeo Salinas and other year round operations of the Salinas Sports Complex. Through donation of our facility, vending and fundraising opportunities during Rodeo and other events, the California Rodeo Association returns over $300,000 annually to local non-profits. For more information about the California Rodeo Salinas, log on to www.CARodeo.com or call the California Rodeo Office at 831-775.3100. 'Like' the California Rodeo on Facebook at www.facebook.com/CARodeoSalinas or follow us on twitter @CaliforniaRodeo for updates, photos and more.