Looking at Season Leaderboard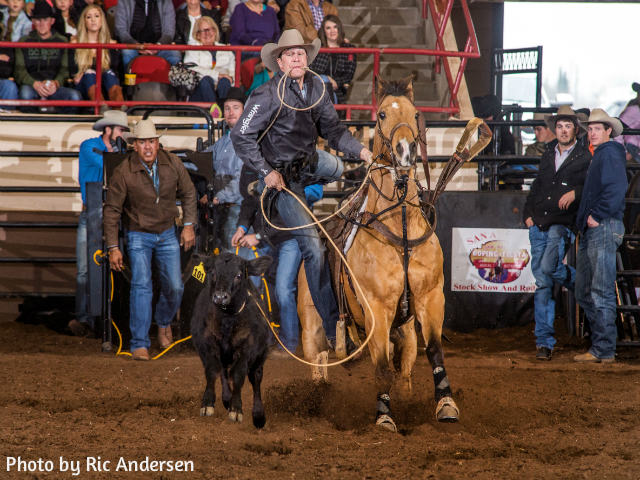 The 2017 PRCA season is in the midst of its winter run. Although the year is still young, many cowboys have posted some great scores and times so far.
In bareback riding, three contestants share the top spot with 90-point rides. That same score – by a pair of riders – shares the bull riding lead. Jesse Wright's 90.5-point score is the best in saddle bronc riding so far.
The biggest logjam in an event is tie-down roping. There are four ropers with 7.0-second times, Cody Quaney, Michael Otero, Tuf Cooper and Randall Carlisle. Three of those four runs – Quaney, Otero and Cooper – were at the San Angelo (Texas) Stock Show and Rodeo, which concludes Feb. 17.
"The calves are really, really good, and there's a short barrier and it's kind of an action-packed setup," Otero said of the Foster Communications Center in San Angelo. "Guys know it's fast because they know that's what it's going to take to win any money, and that's a really good rodeo."
Oddly for Otero, he was conservative on his run, which tied with Cooper to share the first-round win. That was a personal-best time for Otero at a PRCA rodeo.
"It was a bittersweet deal for me," Otero said. "My good horse got hurt, so I had to ride my inexperienced horse and I was way off the barrier. He just wasn't leaving as sharp off my hand as I was wanting him to, but luckily he's fast enough that he was able to catch up in time for me to make a good run."
Otero was riding his 10-year-old horse, D2, at San Angelo. D2 only had one prior run this season – at the Southwestern Exposition and Livestock Show in Fort Worth.
"I think my main horse, Dinero, should be all right now, and I'm planning on taking him and D2 to San Antonio," said Otero, who will compete at San Antonio Feb. 11-13. "I was tickled to death to tie that one that fast in San Angelo on a horse that isn't my ace."
Here are the top scores/times so far in the young 2017 season, through Feb. 9.
Bareback riding
(Tie) Bill Tutor, Korkow Rodeo's Pilsey Power, 90 pts., Lake Charles, La., Feb. 4
Wyatt Bloom, Hi Lo ProRodeo's Wilson Sanchez, McAlester, Okla., Feb. 4
Winn Ratliff, Pickett Rodeo's Top Flight, Waco, Texas, Oct. 15
Saddle bronc riding
Jesse Wright, Powder River Rodeo's Bitter Dan, 90.5 pts, Heber City, Utah, Nov. 5
Bull riding
(Tie) Cole Melancon, Summit Pro Rodeo's Red Image, 90 pts., Denver, Jan. 22
Dustin Boquet, Pete Carr's Classic Pro Rodeo's Lineman, Liberty, Texas, Oct. 22
Steer wrestling
Joshua Clark, 3.0 seconds, Waco, Texas, Dec. 31
Team roping
Cody Snow/Dugan Kelly, 3.5 seconds, Waco, Texas, Oct. 15
Tie-down roping
(Tie) Cody Quaney, 7.0 seconds, San Angelo, Texas, rodeo in progress
Michael Otero, San Angelo, Texas, rodeo in progress
Tuf Cooper, San Angelo, Texas, rodeo in progress
Randall Carlisle, San Antonio, rodeo in progress
Courtesy of PRCA