Looking at the Leaderboard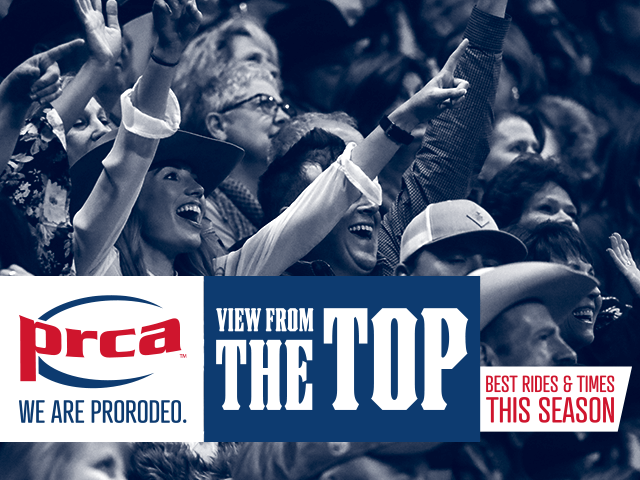 Rank rides and fast times are what every cowboy strives for, but only the highest scores and quickest runs make the leaderboard.
As ProRodeo's athletes grow, their scores and times tend to improve, so here's a comparison between the leaderboard as of June 8, 2018, and the leaderboard as it stood one year ago on June 10, 2017.
The top bareback ride of the 2018 season belongs to Devan Reilly with his 93-point ride on Beutler & Son Rodeo's Killer Bee in Tucson, Ariz. One year ago, the top score was 92 points, set by Tim O'Connell on Korkow Rodeos' Onion Ring in Garden City, Kan.
The top saddle bronc ride of the 2018 season belongs to Jacobs Crawley with his 92-point ride on Frontier Rodeo's Maple Leaf in Corpus Christi, Texas. The second-highest scoring ride of the year was also on Maple Leaf with Brody Cress making a 90.5 in Montgomery, Ala. The top score on June 10, 2017, belonged to Jesse Wright with his 90.5-point ride on Bar T Rodeo's Bitter Dan at the RAM Wilderness Circuit Finals Rodeo in Heber City, Utah.
Bull rider Trey Benton III has the highest score of the 2018 season so far with 92 points on Beutler & Son Rodeo's Lumberjack. One year ago, the top bull riding score was 91.5 points from Scott Schiffner on Outlaw Buckers' Nickle Passage in Red Deer, Alberta.
The fastest steer wrestling time for the 2018 season is 2.7 seconds, made by Ty Erickson in Okeechobee, Fla. A year ago, Damian Padilla had the fastest time of the season at that point in 2.9 seconds in Fort Mohave, Ariz.
Two sets of team ropers are tied for the fastest time this season at 3.5 seconds. Jake Cooper and Cody Doescher made the time in Tulsa, Okla., and Jake Orman and Will Woodfin did the same in Denver. The leaderboard at this time in 2017 had a 3.4-second time at the top, made by Kaleb Driggers and Junior Nogueira in Redding, Calif.
The fastest tie-down roping run so far this season is 6.8 seconds, made by Marty Yates in Denver. A year ago, the fastest tie-down roping time at that point in the season was 6.6 seconds, made by Hunter Herrin in San Antonio.
Steer roper Tuf Cooper has the fastest time of the 2018 season with the 8.4-second run he made in Weatherford, Texas. A year ago, the fastest time was 8.3 seconds, made by Guy Allen in Mulvane, Kan., at the National Finals Steer Roping,
Check back with ProRodeo.com to find out how the leaderboard changes next week.
Courtesy of PRCA