Lufkin Bull Bash This Weekend!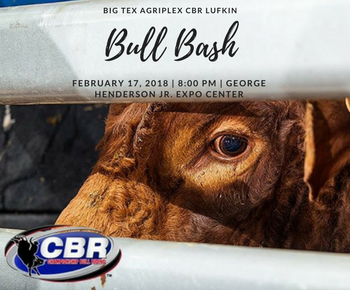 Championship Bull Riding's Road the Cheyenne stops in Lufkin, TX this weekend for the CBR Big Tex Agriplex Bull Bash on Saturday for an action-packed night at the George Henderson Jr. Expo Center!
Buy your tickets now to avoid the rush Saturday night! Tickets available at www.eventbrite.com. Pricing increases $5 day of show.
General Admission tickets will also be sold at Cavender's and Angelina Animal Hospital in Lufkin.
Make your plans now to join in on the fun around town Saturday afternoon. CBR riders and bullfighters will make several appearances during their stay in Lufkin with autograph and picture opportunities.
Saturday February 17th:
Bash before the Bash! From 11am-1pm at Big Tex AgriPlex in Nacogdoches, free merchandise giveaways, games & fun for everyone and the world famous Rays Cajun Kitchen will be serving lunch. Did we mention attendees get the chance to enter for a brand new Gravely zero turn mower? That's right! One lucky winner gets to take home a new mower.
The fun continues at Cavender's Boot City from 2pm-4pm. Meet the stars of CBR and don't forget your parking passes! The store has some awesome sales going so don't forget your new outfit for the Bull Bash!
6PM Doors Open- Don't miss the Get Famous Bullfighters autograph signing at 7pm next to the CBR merchandise on the concourse. Other vendors include 5B Rodeo Company and Piney Creek Jewelry.
Show Time is 8PM sharp and Shotgun Rider performs immediately after Bull Riding.
Courtesy of CBR