Lufkin Wins Pecos with Record-Tying Ride
by Tracy Renck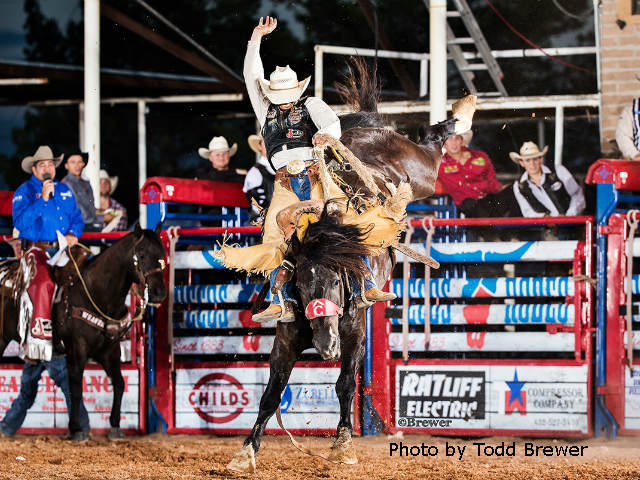 PECOS, Texas – With a grand opportunity in front of him, saddle bronc rider Joe Lufkin knew he couldn't let it go to waste.
And, he didn't.
The Sallisaw, Okla., cowboy had a rodeo-record tying 88-point ride on Pete Carr Pro Rodeo's Cool Runnings to win the West of the Pecos Rodeo (June 22-25) at Buck Jackson Arena.
"I was very happy when I saw I drew Cool Runnings," said Lufkin, 23. "I knew that was a chance to make money and I had to keep my mind right and not over think things. I had never been on that horse before and that horse has been around for a long time. A lot of guys miss him out because he really blows right out of there, but that ride was a lot of fun and he was just electric."
Lufkin's 88-point ride on the four-time Wrangler National Finals Rodeo qualifying horse, tied the West of the Pecos Rodeo saddle bronc record with Cody DeMoss, 2008; Jace Garrett, 2010; Cody Wright, 2013; Steven Dent, 2015 and Isaac Diaz, 2015.
"When I made the whistle, I wished the ride wasn't over," Lufkin said. "It's one of the best rides I've ever had."
This was Lufkin's inaugural West of Pecos Rodeo victory and he won $4,033 for his performance. A nice boost for Lufkin who was 21st in the June 20 WEATHER GUARD® PRCA World Standings with $18,522.
Lufkin, who joined the PRCA in 2014, finished a career-best 23rd in the world a year ago with $44,245.
"This win is great," Lufkin said. "That's one more step in helping me try and make the Finals. Everything counts from here on out and when you have the right horses, you have to make them count and I was glad I made that one count. I want to make the Finals and to do that I just need to keep trying my hardest and not look back on the past. You're going to mess up on a horse here and there, that's just going to happen, but you don't want to think about that. You just have to get on the next one and try even harder."
Like so many cowboys, Lufkin's schedule is jam-packed right now and that suits him fine.
"I have to go compete in eight rodeos up until the Fourth of July," Lufkin said. "It's just, go, go, and go. When you're rodeoing this hard, I like it because you get in a groove. You don't have time to think about other stuff. You can just get in a groove and get going, and this win at Pecos will help me do that for sure."
Other winners at the $200,820 rodeo were all-around cowboy Paul David Tierney ($4,397, tie-down roping and team roping), bareback rider Casey Colletti (86.5 points on Pete Carr's Classic Pro Rodeo's Sadie's Gal), steer wrestler Juan Alcazar Jr. (10.7 seconds on two head), team ropers Joshua Torres/Jonathan Torres (14.6 seconds on two head), tie-down roper Marty Yates (18.4 seconds on two head), barrel racer Emily Miller (17.66 seconds), steer ropers Cody Lee (36.2 seconds on three head) and Scott Snedecor (36.2 seconds on three head), and bull rider Cody Rostockyj (87.5 points on Pete Carr Pro Rodeo's Son Of Sam).
For more coverage of the West of the Pecos Rodeo, check out the July 15 issue of the ProRodeo Sports News.
Courtesy of PRCA