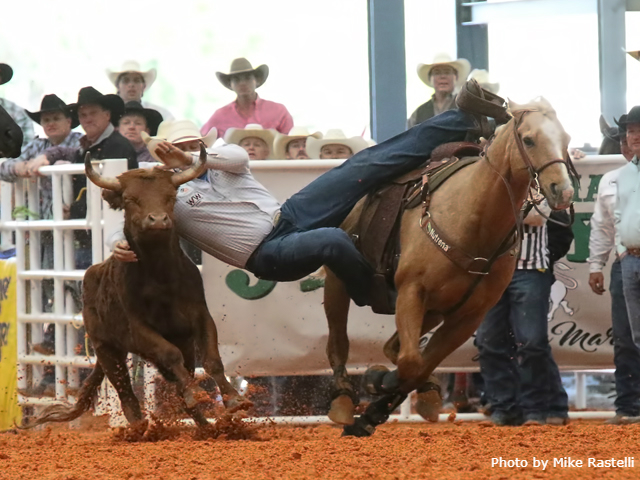 ARCADIA, Fla. – Steer wrestler Will Lummus christened Arcadia's new, $9 million arena by winning the Arcadia All-Fla Championship Rodeo with a 4.9-second run.
"Arcadia has been a great rodeo and always has been, and this was the first rodeo in their beautiful new facility," Lummus said. "They put a lot of time and money into it and you can really tell. It's a little different from the other arena from the dimensions, but it was an awesome place to have a rodeo."
Lummus noted that the crowd was massive, despite making his run on a Thursday afternoon.
"The way they promote that rodeo and get the fans in there, it was an awesome experience because the arena was packed," Lummus said.
Ground was broken on Arcadia's new arena on Jan. 6, 2017, to replace the historic arena that was built in 1959.
The new, 107,000-square-foot facility for the "Granddaddy of 'em All" holds 7,796 seats (approximately one for every resident of Arcadia). The facility opened just in time for this year's rodeo and every seat in the house was filled. This is the second largest clear-span Butler Building ever constructed in the United States, according to the News-Press.
The size of the facility complimented the size of the competition.
"They sent some strong steers down there that we had seen just a few times, and that played to my advantage," the 25-year-old cowboy said.
Lummus flew to Arcadia and rode 2017 World Champion steer wrestler Tyler Waguespack's horse, Outlaw.
"He played a critical role in it (winning)," Lummus said. "He's just a solid horse with plenty of speed. There's no telling how much they've won on that horse with everyone who's ridden him. The horse himself is just a winner."
Outlaw wasn't the only Wrangler National Finals Rodeo-caliber advantage Lummus had in the fold, as three-time WNFR qualifier Kyle Irwin was his hazer.
"It was a team effort," Lummus said. "Kyle and Tyler placed with the same horses, so we were three-for-three on getting checks in Arcadia, and it really throws it back on the horsepower. That's what I credit it to, good horsepower and rodeoing with two guys who know how to win.
"They won the gold buckle last year with Kyle hazing. They're good at setting a steer up to have his head picked up, and it slows it down, so you can make a great run on a steer."
Lummus came close to qualifying for his first WNFR in 2017 when he ranked 20th with $66,520. Now, he's in good position early to make his dream a reality, since he was already ranked 24th in the world with $12,173 before winning Arcadia.
Winning Arcadia had an added bonus for Lummus as it's part of his circuit. Before winning Arcadia, Lummus was sitting fourth in the RAM Southeastern Circuit for steer wrestling with $4,829 – $1,618 away from taking the lead.
Up next, Lummus is heading to Rodeo Austin (Texas) and the Rio Grande Valley Livestock Show & Rodeo in Mercedes, Texas.
For more coverage of the Arcadia All-Fla Championship Rodeo, check out the March 23 online edition of ProRodeo Sports News at prorodeo.com.
Courtesy of PRCA