Mackenzie Doubles Up at RCCFR
by Tracy Renck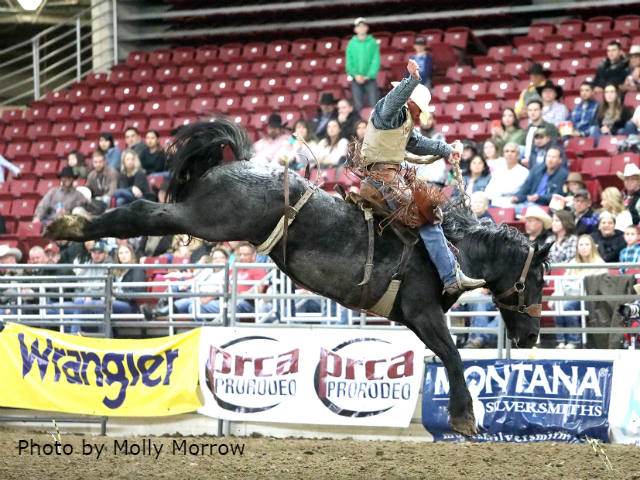 YAKIMA, Wash. – The Columbia Circuit has been good to Ryan Mackenzie over the years.
Yet, he never accomplished what he did on Nov. 5.
For the first time in his career he doubled up. He won the Columbia Circuit year-end title and the RAM Columbia Circuit Finals Rodeo average crown.
The Jordan Valley, Ore., cowboy won the latter with 228 points in the three-head average.
"I got on some nice horses and had a little luck," said Mackenzie. 31. "This feels really good to win the year-end and average."
Mackenzie can add his latest accomplishments to his past success. He has now won the Columbia River year-end titles three times – 2006, 2015, and 2016. Mackenzie also now has a pair of RCCFR crowns in 2014 and 2016.
Winning the average didn't come easy for Mackenzie. He had his hands full on his third-round ride aboard Big Bend Rodeo's Broken Springs before recording a 72-point ride.
"That was a really nice horse," Mackenzie said. "I had quite of bit of trouble with her (Nov. 5), but I was able to get the job done."
McKenzie was solid throughout the RCCFR. He finished fourth in the first round with a 75-point ride and then followed that up with victories in the second and third rounds, respectively. In round two, he had an 80.5-point ride on Flying 5 Rodeo's Holy Holly.
"I was going at every horse the same and I just let it fall the way it did." Mackenzie said.
Mackenzie's strong showing in the Columbia River Circuit and RCCFR allowed him to earn another trip to the RAM National Circuit Finals Rodeo, April 6-9, in Kissimmee, Fla.
Mackenzie acknowledged he's excited to be competing at the RNCFR, but he's even more thrilled about how his most recent success will help in the 2017 season as he tries to qualify for his inaugural Wrangler National Finals Rodeo presented by Polaris RANGER.
All money won at the 12 circuit finals rodeos, All American ProRodeo Finals and the RNCFR – per new PRCA bylaws – count toward the 2017 WEATHER GUARD® PRCA World Standings.
Mackenzie departed Yakima after earning $5,516.
"This money counts and the RNCFR money counts, so hopefully I can also win a bunch down there in Florida," Mackenzie said. "If a guy gets lucky down there at the RNCFR and wins good money, it could darn sure get me over the hump and to the NFR."
Other winners at the $143,725 rodeo were all-around champion Shane Erickson ($2,757, tie-down roping and team roping), bareback rider Wyatt Bloom (230.5 points on three head), steer wrestler Cody Cabral (12.8 seconds on three head), team ropers Hayes Smith/Russell Cardoza (14.5 seconds on three head), tie-down roper Cooper Martin (24.0 seconds on three head), steer roper Howdy McGinn (40.5 seconds on three head), barrel racer Kathy Grimes (37.04 seconds on three runs), and bull rider Jordan Spears (238.5 points on three head).
For more coverage of the RAM Columbia River Circuit Finals Rodeo, check out the Nov. 18 issue of the ProRodeo Sports News.
Courtesy of PRCA