Mauney wins the American bull riding event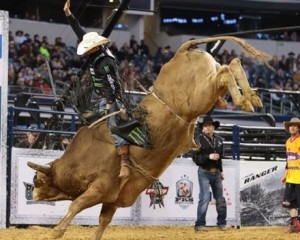 ARLINGTON, Texas ― Professional Bull Riders 2013 World Champion J.B. Mauney rode Cowtown Slinger (K-C Bucking Bulls) for 90.5 points during the four-man bull riding Shoot Out of THE AMERICAN en route to being crowned THE AMERICAN bull riding event winner.
THE AMERICAN, the richest rodeo in the history of Western sports, took place Sunday, March 2, at AT&T Stadium in Arlington, Texas. Thousands of fans and celebrities, including Clay Walker and Governor Rick Perry, watched Mauney cover BIG TEX "ROCKS" (Jeff Robinson/Bar 3D Bucking Bulls) for 87.50 points during Round 1 to qualify for the Shoot Out round.
2008 PBR World Champion Guilherme Marchi entered the final round in the top spot with his 89.75-point effort on Palm Springs (Wolf Creek Cattle Co.) in Round 1; 2004 PBR World Champion Mike Lee landed in the second position after picking up 89.25 points atop Who Dey (K-C Bucking Bulls). The PBR Dr Pepper Iron Cowboy V winner Joao Ricardo Vieira grabbed the third spot with an 88.75-point performance atop Mississippi Hippy (K-C Bucking Bulls/ Sparklin Acres/ Blythe Cattle). Mississippi Hippy had only been ridden once previously on the PBR's Built Ford Tough Series tour.
With Marchi, Lee and Vieira all bucking off their bulls during the Shoot Out, Mauney was the only rider with a qualified ride and captured the $100,000 event title.
Mauney said, "I was talking to Lexi [his wife] earlier and said, 'One day I can tell my grandchildren that I was in the first [THE]AMERICAN,' and now I can tell them I won it, too."
History was made Sunday when bareback rider Richmond Champion was awarded the largest payout ever in rodeo. Champion was a qualifier to the bareback competition and was eligible for the $1 million bonus if he could win his event at THE AMERICAN. His 90-point ride in the bareback Shoot Out was enough for the title, and as the only qualifier to win his event, he received the full $1 million bonus.
© 2014 PBR Inc. All rights reserved.