McVay Scores Huge Odessa Win
by Tracy Renck | Jan 15, 2017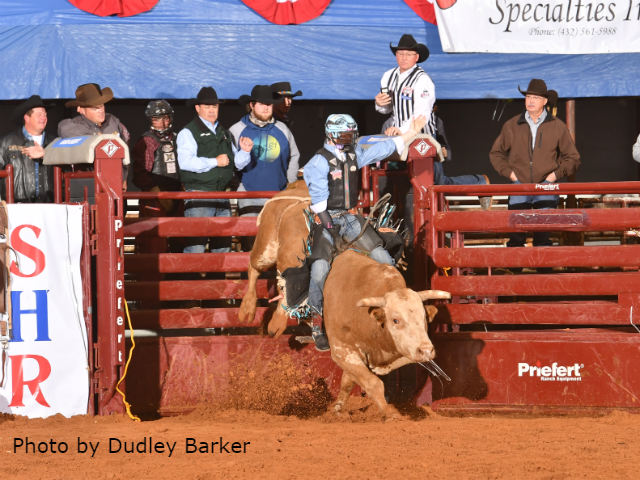 ODESSA, Texas – This isn't how the script is supposed to work.
Bull rider Tyler McVay, 18, never got that memo.
The Tucson, Ariz., cowboy competing in his first PRCA rodeo on his permit captured an improbable victory at the SandHills Stock Show Rodeo Jan. 14.
McVay claimed top honors with his 87-point ride on Beutler & Son Rodeo's The Gift.
"This feels amazing," McVay said. "I drew really well and I took full advantage of the situation."
McVay gave his career and bank account a jolt. With his winning ride, he easily filled his permit by earning $4,681 at the Ector County Coliseum.
McVay just turned 18 years old on Sept. 10 and bought his permit the next day. Now, he is trying to digest the whirlwind experience of winning more than $4,000 on his first PRCA bull ride.
"The PRCA is definitely a step up, especially their bulls," McVay said. "This is the kind of competition that I've been craving for a while. I've always wanted to be in this spotlight and I was able to seize the opportunity. When I made the whistle and got off, I thought my score was going to be in the low 80s. When I saw the 87 on the scoreboard, I was really excited."
With the 87 in hand early in the rodeo, McVay had to play the waiting game until the rodeo ended several days later.
"I knew I was going to place and win money, I just didn't know if my score was going to be good enough to win," McVay said. "I kept checking online and it was incredible when I found out I won. It really hasn't sunk in."
McVay is presently a senior in high school and he's planning on attending Tarleton State University in Stephenville, Texas, in the fall.
"The plan I have right now is to stay on my permit this year and once I get some money saved up, and I'm going to buy my rookie card next year," McVay said.
Other winners at the $221,901 rodeo were all-around cowboy ($5,267, Cash Myers, steer wrestling and steer roping), bareback rider Austin Foss (87 points on Beutler & Son Rodeo's Foxy Lady), steer wrestler Tanner Milan (3.6 seconds), team ropers Tanner Green/Scotty Raines (8.5 seconds on two head), saddle bronc rider Jacobs Crawley (84 points on JK Rodeo's Snort), tie-down roper Scott Kormos (7.7 seconds), steer roper Tuf Cooper (32.1 seconds on three head), and barrel racer Holly Wright (15.26 seconds on one run).
Foss' 87 to win the bareback riding earned him a share of the arena record along with Bo Casper (2007), Russ Hallaby (2007) and Ty Breuer (2009). Team ropers Tanner Green and Scotty Raines broke the two-head average record with a time of 8.5 seconds, a tenth of a second better than Steve Purcella/Jhett Johnson (2010), JoJo LeMond/Randon Adams (2010) and Tyler Wade/Kinney Harrell (2016).
For more coverage of the SandHills Stock Show Rodeo, check out the Feb. 3 issue of the ProRodeo Sports News.
Courtesy of PRCA