Miller Rides Out of Sisters with Bareback Crown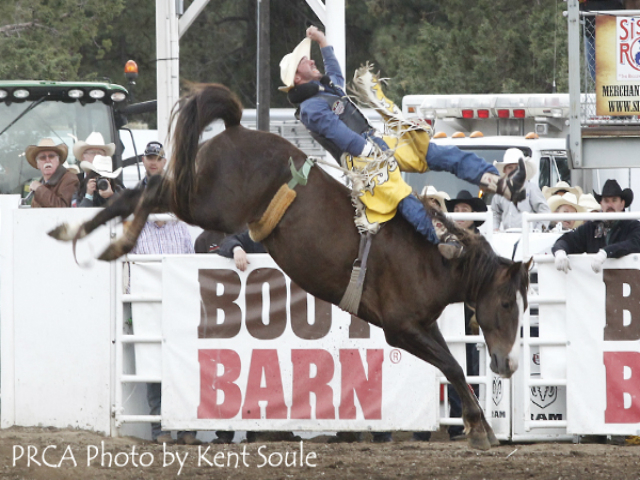 SISTERS, Ore. – A PRCA member since 2011, bareback rider Justin Miller has yet to qualify for a Wrangler Nationals Finals Rodeo presented by Polaris RANGER. Even so, his 2017 season has looked very different than the rest.
Miller, 27, has never finished higher than the 29th – where he landed at the end of the 2014 season – in the WEATHER GUARD® PRCA World Standings. However, the two-time RAM National Circuit Finals Rodeo qualifier is well on his way to the promised land.
An 83.5-point ride on Corey & Lange Rodeo's Classic Moon was more than enough for Miller to take the Sisters Rodeo title, a 5.5-point margin of victory over second-place Jessy Davis. Miller, unfazed by the unseasonably chilly weather in the heart of Oregon, enjoyed the time spent with his fellow Montana cowboys.
"It was definitely cold in there," Miller said. "That afternoon perf before I rode it hailed a little bit during the bareback riding, and it started raining.
"I think it was like 40 degrees before I got on, and it was pretty cold, but all of us Montana guys were over there all in the same group and it was a pretty good atmosphere."
Miller didn't hesitate to heap deserved praise towards Royal Moon, a horse that he said was no unpolished mount.
"She really turned out and bucked really well," Miller explained. "She was pretty hard actually. I didn't make the pickup men; she piled me up right after the whistle. She was a pretty good horse."
The Miles City (Mont.) Community College graduate has seen his fair share of rodeo misfortune. A year after obtaining his PRCA card, Miller broke his collarbone in 2012, displacing him from any competition. Between 2013 and 2016, Miller finished 29th, 60th, 46th and 36th, respectively, consistently bearing the burden of seeing his name just outside the needed WNFR prerequisites.
However, just before entering his fruitful weekend at Sisters, Miller's placement at 13th in the world standings saw him right in the thick of the WNFR projections. With a $4,301 payday, Miller's WNFR debut looks to be less of a dream, and more of a possibility.
"Especially right here before the Fourth of July, this gets my name out there more and helps me out during this summer run, starting in a week or so."
Other winners at the $147,492 rodeo were all-around cowboy Jordan Ketscher ($1,214 in tie-down roping and team roping), steer wrestlers Trevor Knowles and Olin Hannum (9.2 seconds on two head each), team ropers Brooks Dahozy/Jason Duby (5.5 seconds), saddle bronc rider Taos Muncy (82.5 points on Flying 5 Rodeo's Gooses Fine Wine), tie-down roper Shane Hanchey (17.9 seconds on two head), barrel racer Jane Melby (17.39 seconds) and bull rider Jordan Spears (86 points on Corey & Lange Rodeo's Red Ryder).
For more coverage of the Sisters Rodeo, check out the June 23 issue of the ProRodeo Sports News.
Courtesy of PRCA