Millions Generated for Scholarships through Fort Worth Stock Show Junior Sale of Champions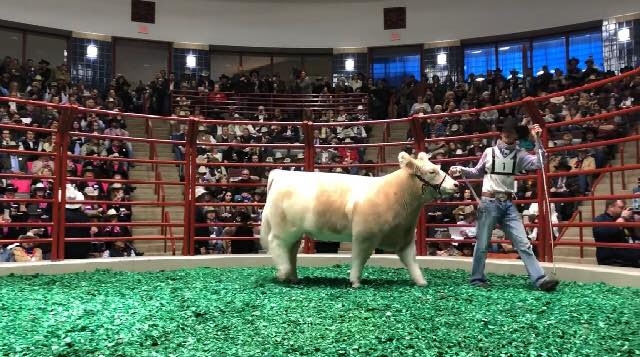 FORT WORTH, TEXAS – More than $3.6 million was collected as the final hammer fell before a standing room only crowd at the Fort Worth Stock Show & Rodeo Sale of Champions. Local business owners, executives and individuals were responsible for purchasing 291 steers, barrows, lambs and goats. The Sale represents months of hard work by youth and their families from across Texas who labored to condition their animals for the Show. The reward, that often means a college education for the champion exhibitors, comes during the Show's legendary "Champions Saturday."
"The Junior Sale of Champions auction is extraordinary because of the awesome women and men that come together for a very important purpose," said Stock Show President and General Manager, Brad Barnes. "Our youth exhibitors are rewarded for their hard work because of a community of individuals and organizations that care about the future of the livestock industry in Texas."
The grand champion steer, exhibited by Dallham County 4-H member Ben Bezner of Texline, Texasm was a European Crossbred purchased by Hillwood Properties with a bid-topping $200,000. This makes the seventh consecutive year the grand champion has sold in excess of $200,000. The reserve grand champion was shown by Austin Breeding, a Roberts County 4-H member from Miami, Texas, whose European Crossbred steer brought a final bid of $90,000 from K&L (Karen and Larry Anfin) Enterprises.
Bid spotters were kept busy throughout the barrow sale, with the grand champion, a crossbred being shown by Jayton Benevidez of Cameron FFA, going for a final bid of $45,000 from Standard Meat Co./Syracuse Sausage. Endeavor Acquisitions, LLC, topped the bidding at $20,000 for the reserve grand champion barrow, shown by Tyleigh Joe Price of Snyder FFA. The reserve grand champion was also a crossbred.
A new sales record was set when Stronghold Resource Partners, LLC, purchased the grand champion lamb, a medium wool cross shown by Howard County 4-H member Bryce Hamlin of Big Spring, Texas, for $75,000. Another medium wool cross, shown by Hudson Franklin, a Lubbock County 4-H member from Shallowater, took the reserve spot, with the winning bid of $40,000 placed by Ladies on the Lamb.
In wether goats, the grand champion was shown by Hayden Schroeder of Zephyr FFA selling for $35,000 to Erin Davis, while the reserve champion brought a bid of $17,000 from Caroline Carter and Mary Kathryn King for Maci Alexander of Magnolia FFA.
The Fort Worth Stock Show Syndicate, along with Ladies on the Lamb, U Ol' Goat Committee, Fort Worth Businessmen, The Tallest Hog at the Trough Syndicate, and Women Steering Business were responsible for the purchase of all animals offered in the Junior Sale of Champions. A group of more than 100 Fort Worth area businessmen dedicated to enhancing agricultural education activities for Texas youth, the Syndicate has raised more than $52 million for youth exhibitors and provided more than $1 million in scholarships to Texas 4-H and FFA members since 1980.
The Fort Worth Stock Show & Rodeo offers visitors a chance to experience the unique western lifestyle surrounding the show, along with one-of-a-kind combination of education, tradition and Western heritage. For more information, visit www.fwssr.com or contact 817.877.2400. This Thing is Legendary.®