Miss Rodeo America 2016: Katherine Merck, Miss Rodeo Washington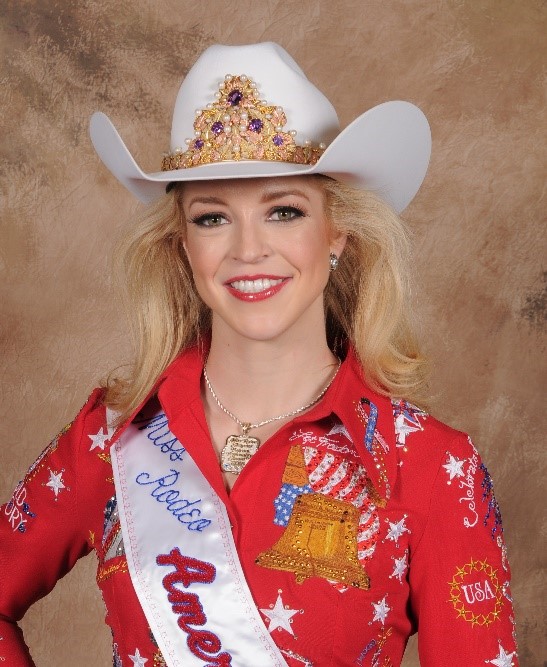 Spokane, Washington is home to 25 year old Katherine Merck, Miss Rodeo Washington, 2015. Katherine is currently in her final year of Law School at Gonzaga University School of Law. Her plans are to run for a judicial position on the Washington State Supreme Court to promote ethical justice for land use, water rights, and agricultural estate planning.
When time allows, Katherine enjoys hunting, target shooting, wakeboarding, paddle boarding reading and knitting. She is a former rugby player for the University of Notre Dame.
"As a dedicated rodeo ambassador, I am honored to share my enthusiasm and knowledge of the sport of professional rodeo and its athletes, both human and animal, with as many people as possible, and serve as a representative and role model by exemplifying rodeo's virtues of fair play, sportsmanship and hard work. It is a privilege to represent the cowboys and cowgirls who carry on the great western lifestyle, values, and traditions that rodeo embodies. As Miss Rodeo America, I channel my motto "live so enthusiastically you cannot fail" into successfully promoting professional rodeo, creating new fans everywhere I go and ensuring rodeo's legacy."
Katherine believes it is her duty to actively serve in order to give back to the community that has given so much to her. As a board member, club secretary and public relations chairperson or Rotaract, an affiliate of Rotary, she helped organized community projects and events, including the Junior Lilac Parade which is the largest middle school parade in the country. She is also on the Board of Directors PRODIGY Northwest (Providing Resources and Opportunities Designed to Inspire Gifted Youth) which has allowed her to work with gifted children as well as leading accredited continuing seminars for teachers. Her passion for fly-fishing led her to co-found Gonzaga Law School's Rod and Gun Club with the goal of educating her peers both about technicalities of the sport through clinics and the importance of stewardship of local waters through annual river cleanups.
The Miss America Pageant is excited to work with Katherine for the next year while she is traveling the United States as the official representative of the Professional Rodeo Cowboys Association.
Miss Rodeo America 2016 Pageant Official Results
Miss Rodeo America 2016: Katherine Merck
First Runner-up: Miss Rodeo Kansas – Abbey Pomeroy
Second Runner-up: Miss Rodeo Idaho – Dusti Olson
Third Runner-up: Miss Rodeo Oklahoma – Sierra Pecha
Fourth Runner-up: Miss Rodeo Texas – Nikki Woodward
Appearance: Miss Rodeo Idaho – Dusti Olson
Personality: Miss Rodeo Washington – Katherine Merck
Horsemanship: Miss Rodeo Kansas – Abbey Pomeroy
Photogenic: Miss Rodeo Idaho – Dusti Olson
Speech: Miss Rodeo Texas – Nikki Woodward
Congeniality: Miss Rodeo North Carolina – Devin Redding
Raeana Wadhams Spirit Award: Miss Rodeo Arkansas – Kelsey Parmenter
Written Test: Miss Rodeo Florida – Sheila Shirah
Top Ten Contestants:
Miss Rodeo Kansas – Abbey Pomeroy
Miss Rodeo Florida – Sheila Shirah
Miss Rodeo Oklahoma – Sierra Pecha
Miss Rodeo Nebraska – Joni Qualm
Miss Rodeo New Mexico – Kagan Massey
Miss Rodeo Washington – Katherine Merck
Miss Rodeo Montana – Hanna Heckman
Miss Rodeo Idaho – Dusti Olson
Miss Rodeo Texas – Nikki Woodward
Miss Rodeo Wyoming – Laurel Austin
Other Awards
Zona Vig Scrapbook Awards:
1st Place: Miss Rodeo Kansas – Abbey Pomeroy
2nd Place: Miss Rodeo Utah – Bailey Jo Woolsey
3rd Place: Miss Rodeo Mississippi – Laura Sumrall
4th Place: Miss Rodeo North Dakota – Danielle Taylor
Scrapbook Cover Award: Miss Rodeo Washington – Katherine Merck
Achievement Award (given to high seller for MRA Scholarship Foundation Drawing): Miss Rodeo Colorado – Marie Kidd
Chap Award (Scholarship from Women's Professional Rodeo Association for contestant with unique chaps): Miss Rodeo Idaho – Dusti Olson
Rising Star: Miss Rodeo North Carolina – Devin Redding
Wear The West Your Way Presentation of Montana Silversmith: Miss Rodeo Alaska – Laura Stockemer
Sherry Smith Memorial Scholarship: Miss Rodeo Idaho – Dusti Olson
Past President's Scholarship: Miss Rodeo Alaska – Laura Stockemer