Miss Rodeo America Reflects on 2013
Chenae Shiner recaps her year as 2013 Miss Rodeo America, sharing her favorite memories and what comes next after she passes her crown to the next Miss Rodeo America.
Q:  What has been your favorite part about being Miss Rodeo America 2013?
My favorite part of this experience has been meeting all kinds of people over the past year. As Miss Rodeo America, I am able to travel all around the country and meet thousands of people who are all strangers and turn into friends and family. I am grateful for all the relationships I have built this year. I couldn't have asked for more and I feel fortunate to have had this opportunity to travel across the country as Miss Rodeo America.
Q:  What were some of your favorite memories this past year?
One of my favorite memories this year has to be the first trip I took as Miss Rodeo America. I went to the National Western Stock Show in Denver, Colorado. Entering the arena carrying the American flag and being announced as Miss Rodeo America was one of the coolest feelings I've ever had. Another special memory from this past year was going to a rodeo in Utah, which is my home state. It was the only one in Utah I was able to attend and I went skydiving while I was there!
Q:  What are your favorite western styles from the fashion show?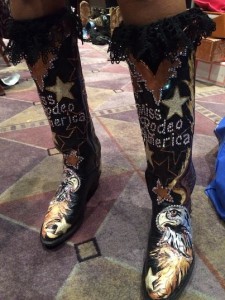 My favorite style of the Miss Rodeo America Fashion Show was my first outfit, which was a Wrangler outfit. It was overall shorts paired with an embellished long-sleeve shirt with the Wrangler logo and special boots that were embellished with "Miss Rodeo America." I have a good friend who added rhinestones to the overall shorts to add a personal touch. And, of course, you can't beat those Wrangler outfits!
Q:  What's next for you?
As I wrap up my final week as Miss Rodeo America 2013, I'll be getting ready for what's next. With the help of my Miss Rodeo America scholarship, I'll be going back to school to finish my marketing and business degree. I will also start barrel racing again. I'm looking forward to traveling to rodeos and getting back on the other side of the arena!
Q:  What advice do you have for Miss Rodeo America 2014?
My advice is to enjoy every moment and have fun. The next year will be the ride of a lifetime–make the most of it! Hopefully she enjoys BBQ, because you eat a lot of that within the year.