Mitchell and Cooper Team Up to Win Oakdale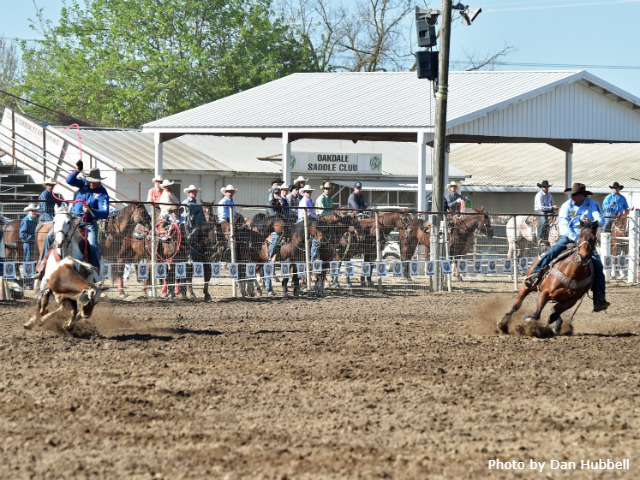 OAKDALE, Calif. – A new team roping partnership started off with a major win for Spencer Mitchell and Clay O'Brien Cooper. The duo placed in both rounds to win the average at the Oakdale (Calif.) Saddle Club Rodeo on April 14-15.
"Clay called me about two days before the books opened for Oakdale and asked if I wanted to rope," Mitchell said. "That's an opportunity you don't want to pass up, he's a legend in the sport."
Cooper qualified for the Wrangler National Finals Rodeo 29 times and is a seven-time world champion (1985-89, 1992, 1994). Mitchell is no stranger to success, either, as he qualified for the Wrangler NFR in 2011-12.
"As long as things go as they have, we'll keep it going for as long as we can," Mitchell said.
If there's going to be a change in roping partners, spring is the best time to do it, Cooper said, adding that Oakdale is basically the start of the spring run.
All told, their 13.9 seconds on two head was worth $3,757. While the money is nice, the confidence boost in their new partnership is just as valuable.
"It's huge to start a new partnership on a win like that," Mitchell said. "To place in both rounds and win the average is tough with the competition here, but it boosts your confidence."
The partnership wasn't the only new factor in the Oakdale arena for Cooper, as he started roping with a new, 13-year-old American Quarter Horse his wife and daughter named Maximus.
"I'm starting to get some runs under my belt and get to know him and him know me, and it's starting to feel comfortable," Cooper said.
Making good draws in both rounds helped the ropers, but good chemistry was a factor, too.
"I tend to stay more aggressive and Clay handles the rest no matter what you throw at him," Mitchell said.
Cooper agreed with Mitchell.
"We put those together in almost identical runs at 6.9 (seconds) and 7 flat, so it was two good, snappy runs," Cooper said.
This wasn't Mitchell's first win at Oakdale, having won there in 2012 with Broc Cresta.
"It feels good – and in the home state dang sure is awesome," Mitchell said.
Cooper has competed at Oakdale for more than 30 years. This year marks his second win at the historic rodeo.
"It's unique because both guys come from the right side in team roping and there are only a couple of those in the PRCA with that setup, so it's old-school and traditional," Cooper said. "So to get it a second time with Spencer, and it being our first one together, makes it special."
Before winning Oakdale, Mitchell was 10th in the 2018 PRCA World Standings for team roping headers and Cooper was 35th among heelers. Having a successful start at Oakdale has Mitchell confident they'll both be roping in Las Vegas at the Wrangler NFR in December.
"There are a lot of good rodeos coming up and we're both happy our partnership looks like it's something that could be great," Mitchell said.
Other winners at the $117,773 rodeo were bareback rider David Peebles (88 points on C5 Rodeo's Virgil); steer wrestler Blake Knowles (9.6 seconds on two head); saddle bronc rider Hardy Braden (80 points on Four Star Rodeo's Fancy Pants); tie-down roper Kyle Dickens (17.9 seconds on two head); barrel racer Lynette Clyde (17.72 seconds) and bull rider Boudreaux Campbell (90 points on Four Star Rodeo's Yellow Fever).
For more coverage of the Oakdale Saddle Club Rodeo, check out the April 20 online edition of ProRodeo Sports News at prorodeo.com.
Courtesy of PRCA