Mosher Gets Career-Best Win in Casper
by Tracy Renck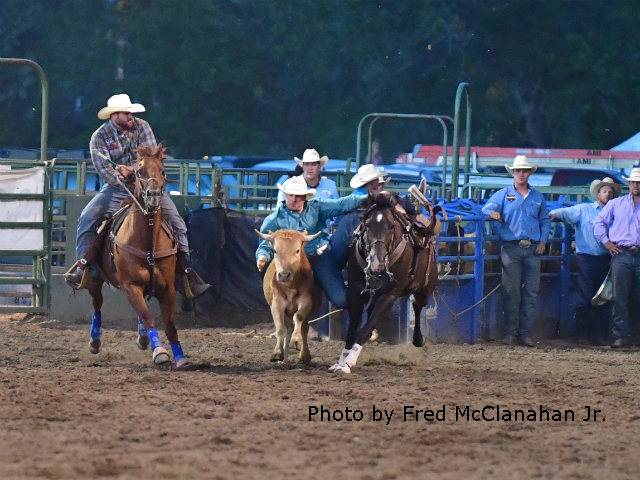 CASPER Wyo. – This isn't usually how things work out, but steer wrestler Ross Mosher couldn't have written a better script.
Mosher, riding a new horse and making his first appearance at the Central Wyoming Fair & Rodeo clocked a time of 7.7 seconds in the two-head average to capture the win July 16 at the CWF & R Outdoor Arena.
"This win feels really good, and probably is my biggest win," said Mosher, 29. "This is a big rodeo and I knew I had a good steer and I got a good start and a good go in the finals and got that 3.7-second run for the win."
The Augusta, Mont., cowboy collected a $1,566 check for his win in the finals and added another $3,236 for the average victory. He made it into the short-round by virtue of his 4.0-second time in the first round which left him in a four-way tie for second place with Kyle Whitaker, Tanner Brunner and Shane Frey. Mosher's first-round effort netted him $1,454.
"In the finals, I knew I couldn't be late and I had to be smart at the barrier," Mosher said. "I took somewhat of a chance because I knew I had a bunch of good guys who had good steers who still had to go. I knew I was fast and lady luck was on my side."
Mosher's short-round performance came while he was riding his friend and fellow steer Cody Cabral's horse, Little Time.
"That was the first time I ever rode that horse," Mosher said. "I had been riding K.C. Jones' horse, but he wasn't with me in Casper (July 16). Usually things don't go that well for me when I ride a horse for the first time. I had seen that horse go a bunch of times and Cody told me all about him and he was super easy to get along with."
This is Mosher's first year to go hard on the PRCA trail. He spent the last several years attending college. Mosher was a three-time All-American wrestler at the University of Great Falls (Montana).
"I wrestled since I was in kindergarten and I had a great career and won state as a senior in high school," Mosher said. "I got a scholarship to wrestle at Great Falls (NAIA) and I was a three-time All-American and I won a national championship as a senior at 165 pounds (2011)."
After Mosher graduated from Great Falls, he went to Montana State University in Bozeman and earned a bachelor's degree in ag business in 2015.
Although wrestling was his primary focus, Mosher also had a strong interest in rodeo.
"My dad (Kent) rodeoed his whole life and was a steer wrestler and he got me into it," Ross said. "I also learned a lot from Nick Stubblefield. He was a really good friend of mine and a really good mentor."
Stubblefield won Montana Circuit year-end steer wrestling titles in 2002 and 2004.
"I love going full time in the PRCA, it's really busy," Mosher said. "It is long days and a lot of driving, but it's a lot of fun and you get to go to a lot of places. I'm livin' the dream."
Other winners at the $243,971 rodeo were all-around cowboy Caleb Smidt ($7,982, tie-down roping and team roping), bareback riders Kody Lamb (161.5 point on two head) and Teddy Athan (161.5 points on two head), team ropers Tyler Wade/Dakota Kirchenschlager (10.3 seconds on two head), saddle bronc rider Cole Elshere (165.5 points on two head), tie-down ropers Blair Burk (17.8 seconds on two head) and Caleb Smidt (17.8 seconds on two head), barrel racer Stevi Hillman (34.51 seconds on two runs) and bull rider Bayle Worden (166 points on two head).
Smidt broke his rodeo record for all-around earnings that he had set in 2013 and the two-head time of 10.3 on two head by Wade and Kirchenschlager equaled the arena record held by three other pairs.
For more coverage of the Central Wyoming Fair & Rodeo, check out the July 29 issue of the ProRodeo Sports News.
Courtesy of PRCA