Nastri Makes More History at RFFCFR
by Justin Shaw | Jan 14, 2017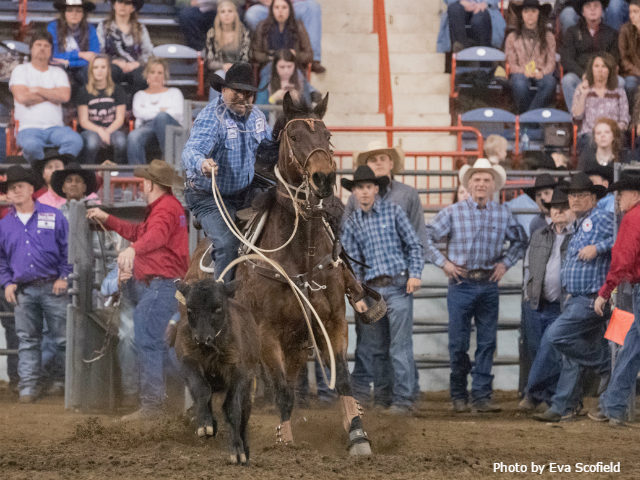 HARRISBURG, Pa. – Carmine Nastri continues to prove age is only a number and a state of mind.
The 56-year-old tie-down roper won the RAM First Frontier Circuit Finals Rodeo average title for the 13th time Saturday night in a career that has spanned nearly 35 years.
Making the victory all the more improbable was the fact that Nastri hadn't roped a calf since the middle of August thanks to a hernia and pinched nerve in his pelvis.
"On top of that, I sold my horse and bought a new horse two weeks ago," said Nastri, a Ballston Spa, N.Y., native. "I didn't even tie one down on that new horse until I got here to the Circuit Finals. So it feels pretty special to be able to come here and compete against these young guys and win."
Nastri placed in all three rounds of the RFFCFR, taking the average title with a time of 33.1 seconds on three head.
The 13 average titles in tie-down roping is the most of any circuit. In addition, Nastri also extended his record for most circuit average titles in all events. He now has 26 – 13 tie-down roping, six all-around and seven team roping.
"They're a bunch of really good guys who have respect for me," Nastri said of the other tie-down roping competitors in his circuit. "I had four of the 12 guys at my winter house down in Georgia staying and practicing with me for a week. The youngest boy in that group came up to me tonight after I won it and said that he hopes he can rope as good at 30 as I am at 56. It's nice to compete with these guys.
"I told them that once we got to the Circuit Finals I was going to turn my game face on, and that the old lion was going to roar and they'd be shooting for second. To make that actually happen was a big deal."
It was Nastri's first RFFCFR average title since 2009 – he also has 14 year-end titles in tie-down roping. The win also broke the First Frontier Circuit event record for longest span between first and last FFCFR titles (33 years) with this win, breaking the record of 27 set by Shawn Quinn (1988 to 2015).
Nastri says there is no set plan for retirement from rodeo, and his family's unwavering support has made it possible to compete for this long.
"My family is behind me 110 percent," Nastri said. "My son is 16 and my daughter is 21, and they help me ride horses every day. My wife, Sheri, helps me with the driving, and it's a family affair for us because we train horses for a living, and I buy and sell horses. We're a horse family, and I'm going to keep rodeoing as long as I'm healthy and able to do it, because I have a great support system."
Other winners at the $176,405 rodeo were all-around cowboy John Leinaweaver ($13,587 in bull riding and steer wrestling), bareback rider J.R. Mills (211 points on three head), steer wrestler Leinaweaver (23.4 seconds on three head), team ropers Chuck Smith and Kevin Brown (19.9 seconds on three head), saddle bronc rider Clovis Crane (214 points on three head), barrel racer Wendy Chesnut (45.29 seconds on three runs) and bull rider Leinaweaver (238 points on three head).
For more coverage of the RFFCFR, check out the Feb. 3 issue of the ProRodeo Sports News.
Courtesy of PRCA