News and Notes from the Rodeo Trail, Jan. 4
by ProRodeo.com | Jan 04, 2016
The rodeo community came together in a big way Dec. 31 to help one of its legends. A fundraiser for five-time World Champion Lewis Feild at the Heber City (Utah) Indoor Rodeo Arena raised $250,000-$300,000. Feild is battling stage-4 pancreatic cancer, and 100 percent of the proceeds went to him and his family to help pay medical bills. The fundraiser included a benefit team roping, dinner and silent/live auctions. Donated items for the auctions included front row tickets to the 2016 Wrangler NFR, a Polaris RANGER ATV, various hunting trips and a valuable painting of Feild. The event was hosted by the Buck Cancer association, which provides financial assistance to families in their time of need.
Kent Sturman, director of the ProRodeo Hall of Fame and Museum of the American Cowboy, was recently appointed to the board of directors of the International Sports Heritage Association (ISHA), a non-profit membership organization incorporated in 1971. Sturman will fill an unexpired term of one-and-a-half years before being eligible for re-election. The ProRodeo Hall of Fame joined ISHA in 2013. Sturman will serve as co-chairman of the membership committee in addition to other assignments and projects for the organization.
Scott Sowle, a former PRCA bull rider and saddle bronc rider, horse trainer and jockey, passed away Dec. 20 in Delray Beach, Fla. He was 50. While away from the sport of horse racing, Sowle pursued his talents as a rodeo cowboy, earning several saddle bronc riding and bull riding titles. He won a saddle bronc riding event in Greenwich, N.Y., as recently as Aug. 25.
Phillip Michael Sanders, a former PRCA steer wrestler, judge and Gold Card member, passed away Dec. 23 in Springfield, Mo. He was 68. Sanders was a PRCA judge for 25 years.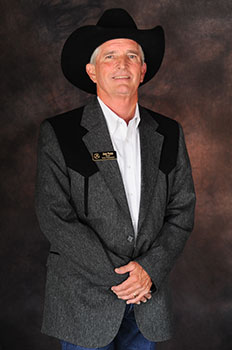 Three new directors have been selected for the Red Bluff (Calif.) Round-Up Association. John Trede was voted in as president of the Round-Up, Mike Dudley was elected as first vice-president and Mike Growney is second vice-president. Trede has served as the ticket manager for the Round-Up since 1975 and has been a director since 1984. His great-grandfather, Claus Trede, was one of the original stockholders when the Round-Up began in 1921. Since then, there has always been a Trede on the Round-Up Board of Directors. Trede is the eighth president in the Round-Up's 95-year history. Dudley represents the second generation of his family to serve on the board; he has been a director since 2001. Growney's great-grandfather, John O'Connor, was also an original stockholder.
On Dec. 17, 175 members of the Pendleton (Ore.) Round-Up organization gathered to celebrate the rodeo's accomplishments in 2015. The Pendleton Round-Up was named the PRCA Large Outdoor Rodeo of the Year, and also won the Remuda Award for the rodeo with the best overall stock. The Rodeo of the Year buckle and bronze Remuda trophy were on display for the members to see, while local rider Bryson Bronson and a paint horse named Chinook were also honored. The pair appeared before Round 3 of the Wrangler NFR in Las Vegas, displaying the American flag before the National Anthem. A picture of Bronson and Chinook on the ProRodeo Sports News Facebook page had more than one million views.
Elsewhere in Pendleton, Aura Goodwin Raley and Clarence Burke were announced as winners of the vote for a bronze statue in their likeness on Main Street. Burke held the title of co-chief of the Umatilla Tribe from 1936 to 1987, and has been regarded as one of the most photographed American Indians in history. Raley's many accomplishments include helping found the city, operating a hotel and donating the land that would become Pioneer Park and the Umatilla County Courthouse.
The Man Up Crusade, through its partnership with the Caldwell (Idaho) Night Rodeo, presented a $4,800 check to Advocates Against Family Violence Dec. 30. The money came from proceeds raised during the 2015 Caldwell Night Rodeo's Purple Night on Aug. 19. In 2012, the Caldwell Night Rodeo became one of the first PRCA rodeos to partner with the Man Up Crusade and establish a Purple Night to bring awareness about domestic violence.
The San Antonio Stock Show & Rodeo finalized its 2016 concert schedule with two big names from the country music industry. Four-time CMA Female Vocalist of the Year Martina McBride will perform Feb. 12, and Chris Stapleton – the first artist to win CMA Album of the Year, Male Vocalist of the Year and New Artist of the Year, simultaneously – will perform Feb. 27. Tickets can be purchased at sarodeo.com …
Casey Vollin – a current PRCA judge, former PRCA bareback rider and current president of the California High School Rodeo Association's District Four – and his family lost their home to a fire Dec. 22 in Salinas, Calif. Luckily, Vollin, his wife, Andrea, and their two daughters weren't injured in the fire. A GoFundMe account has been set up to help the family in this time of need at www.gofundme.com.
The Reno (Nev.) Rodeo adopted 10 Washoe County families for Christmas, with donations collected from Reno Rodeo Association members. The donations, which included food, as well as presents, were delivered to each family on Christmas Eve.
The 77th annual Garfield County Fair in Rifle, Colo. – which includes the PRCA rodeo – set new records for ticket revenue, attendance and sponsorships in 2015.
QUOTE OF THE WEEK
"There's nobody tougher. I was probably 2 or 3 years old and could barely talk, but I was riding a horse (pretending to be) Lewis Feild. Ever since we were little kids, we've idolized my dad."
-Four-time Bareback Riding World Champion Kaycee Feild talking to KSL.com about his father, Lewis, a five-time world champ.
Courtesy of PRCA