News and Notes from the Rodeo Trail, Jan. 9
by ProRodeo.com | Jan 09, 2017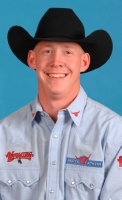 Saddle bronc rider Chet Johnson, a four-time qualifier for the Wrangler National Finals Rodeo (2005, 2007-08, 2013) is likely going to miss 6-8 weeks of rodeo action after being injured during a non-sanctioned event Jan. 7. Johnson, 36, separated his right shoulder, and also believes he suffered an MCL tear on his right knee. He will have the knee evaluated by Dr. Tandy Freeman Jan. 12 in Dallas.
2016 WNFR steer wrestler Jacob Talley will continue to compete despite tearing his MCL while at an unsanctioned event Jan. 7. The Keatchie, La., cowboy was given two options – use a knee immobilizer for six to eight weeks, or get a custom-made brace and see how it feels. "It's going to hurt, but it can't make it worse – and it might take longer to heal," Talley said, adding that he's scheduled to compete on Jan. 12 and 14 in Denver. Talley's hazer's horse was tripped by the steer, causing her to roll over onto Talley. "I won't be 100 percent, but I can still get it done," Talley said. "This weekend in Denver is going to tell a lot. I'll know after I run those two – but with adrenaline going I might not even feel it."
Stanley J. Sanders, a PRCA Gold Card member and native of Madera, Calif., passed away Dec. 23. He was 73. Sanders' PRCA highlights included winning the team roping event at his hometown Clovis Rodeo in 1993, partnered with Leo Camarillo. Sanders' youngest child, Jason, competes in the PRCA as a team roping heeler. He competed alongside his father at rodeos.
James Emmett Stone, a PRCA Gold Card member and longtime pickup man, passed away Dec. 13 in Fallon, Nev. He was 82. Stone worked as a pickup man for ProRodeo Hall of Fame stock contractors Andy Jauregui and Cotton Rosser.
William (Bill) A. Ransom, a PRCA tie-down roper, judge and Gold Card member, of Paola, Kan., passed away Jan. 5. He was 70. Ransom joined the PRCA in 1978 as a calf roper and a judge. He received his Gold Card in 1998, He continued his rodeo career until the spring of 2014, when his illness – melanoma cancer – finally made it impossible for him to continue. His wife, Margo, is a WPRA board member.
"North Dakota Six Pack," a bronze sculpture of a North Dakota group regarded as some of the top cowboys during the 1950s and 1960s, was unveiled Jan. 6 at Jack's Steak House in Bismarck, N.D. The six rodeo icons honored are Jim and Tom Tescher, Duane Howard, Dean Armstrong, Joe Chase and Alvin Nelson. Howard and Nelson are members of the ProRodeo Hall of Fame in Colorado Springs, Colo. North Dakota artist Dave Kulczk was commissioned to complete the piece for the North Dakota Cowboy Hall of Fame. The dedication of the bronze rendition will be Feb. 25 at the North Dakota Cowboy Hall of Fame annual meeting at the Ramada Grand Hotel in Dickinson. Its permanent home will be the North Dakota Cowboy Hall of Fame in Medora. The late North Dakota men, who competed on the national rodeo circuit, were the first to be inducted into the North Dakota Cowboy Hall of Fame.
Tommy Thornton, Executive Director of Hattiesburg (Miss.) Clinic, will serve as grand marshal for the 32nd Annual Southern Miss Coca-Cola Classic Rodeo, set for Feb. 17-18 at the James Lynn Cartlidge Forrest County Multi-Purpose Center.
Courtesy of PRCA