News and Notes from the Rodeo Trail, June 6
by ProRodeo.com | Jun 06, 2016
The ProRodeo Hall of Fame livestock exhibit welcomed two well-known saddle bronc horses to the facility June 2. Powder River Rodeo's Show Me the Cards and Charlie Russell will be guests of the Hall of Fame for the summer. Show Me the Cards, a 22-year-old gelding, competed at the WNFR five times (2000-01, 2003-05), the RAM National Circuit Finals Rodeo nine times (2000-08) and the Mountain States Circuit Finals Rodeo 12 times (2000-2011). The horse is still active in the rodeo arena, and bucked a cowboy off in April. Charlie Russell, 20, has bucked at the WNFR four times (2000-02, 2005), the RNCFR eight times (2000-07) and the MSCFR 12 times (2000-2011). The horse has a unique personality, and is a relative of Gray Wolf, a 2016 ProRodeo Hall of Fame inductee. The two horses are best of friends, and will be at the Hall of Fame until Labor Day weekend.
The Wrangler Network will live stream a special Alan Jackson concert June 7 starting at 7 p.m. (CT) at www.wranglernetwork.com. The country music superstar will be center-stage at Downtown Nashville's Acme Feed & Seed, and will play a special installment of the Lower Broadway venue's acclaimed songwriter series, "Acme Unplugged Presented by Wrangler." Tickets can be purchased here, with a portion of the proceeds benefitting The Shalom Foundation, a non-profit organization dedicated to providing financial support and physical assistance to under-privileged children and their families.
ProRodeoLive.com will be streaming coverage from two locations this weekend. Steve Kenyon will be simulcasting the arena announcing from the Eastern Oregon Livestock Show in Union, beginning with the June 9 Xtreme Bulls event at 7 p.m. (PT). Greg Simas' in-house announcing from the Silver Spurs Rodeo in Kissimmee, Fla., will stream on ProRodeoLive.com beginning June 11 at 7:30 p.m. (ET).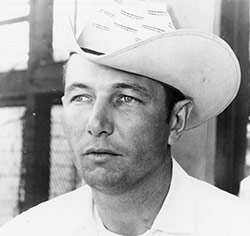 Lester (Les) Arthur Gore, who qualified for the 1965 National Finals Rodeo as a bareback rider and was an accomplished stock contractor, passed away June 1. He was 91. In 1965, Gore finished eighth in the world standings with $10,823, and also finished tied for eighth in the NFR average with a score of 347 points on six head. Pete Burns, Jim R. White and Gore formed the Summit Rodeo Company in 1959, providing stock at the first NFR later that year. Summit Rodeo Company was in operation for seven years, and put on rodeos in Wyoming, Colorado and Nebraska. Summit Rodeo Company took stock to the NFR for six years. Among the company's best bucking stock were bareback horses Time Zone, Scorpion and Back Blast, and saddle bronc horses Red Mountain, Pretty Sox and Pinto Pete.
The Osceola (Fla.) News-Gazette is sponsoring a Kids of Kowtown rodeo ticket giveaway in June. This giveaway was made especially for Osceola County kids who haven't had the privilege of attending a rodeo before. Community members are encouraged to go to the Silver Spurs Rodeo Facebook page and tag the parent(s) or guardian(s) of a local child or teen in the comments section below and tell why their kids would love to watch the rodeo. The winners will be randomly selected, and will win tickets to one of the June 10-12 performances.
QUOTE OF THE WEEK
"I'm not retired, I'm just tired. But I guess you never say never. The fat lady hasn't sung yet, but the band has been acquired."
-Two-time Steer Wrestling World Champion Lee Graves, 45, talking about whether or not he plans on rodeoing in 2016 and beyond
Courtesy of PRCA