News and Notes from the Rodeo Trail, March 7
by ProRodeo.com | Mar 07, 2016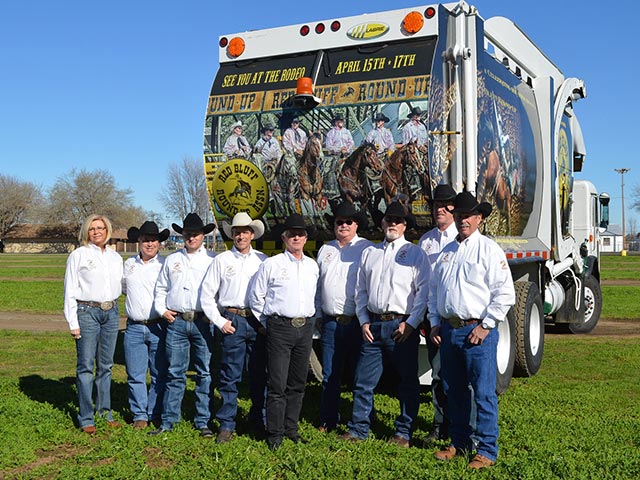 The city of Red Bluff, Calif., has spruced up one of its sanitation trucks with a large photo of a saddle bronc rider covering the side, along with the Red Bluff Round-Up's logo on each side and a picture of six pickup men on the back. The company that owns the truck, Green Waste, plans to add a rope image to the truck's arms, and make the truck's apron black. It will be on display at the rodeo grounds during the week of the 95th Red Bluff Round-Up, April 15-17, and will stay with the Round-Up wrap through 2017, and maybe longer.
ProRodeoLive will be broadcasting from the 88th Arcadia All-Florida Championship Rodeo this weekend. Live coverage of the final two performances of the rodeo starts at 2 p.m. (ET) on both March 12 and 13. Log on to www.prorodeolive.com to listen.
Bareback rider Clint Laye, who qualified for his inaugural Wrangler National Finals Rodeo in 2015, has been sidelined since Feb. 20 with a neck injury. "My neck is really tight from riding," said Laye, 22. "I have a pinched nerve in there, and I'm trying to get it relaxed." Laye said he aggravated the neck injury Feb. 3 at the Wrangler Champions Challenge presented by Justin Boots in Rapid City, S.D., and the injury got worse when he competed at the San Antonio Stock Show & Rodeo Feb. 20. Laye is hoping to be back for the Clark County Fair & Rodeo in Logandale, Nev., April 6-10.
Rodeo Austin launched its newest event March 4-5, when people from all over the state gathered for a barbeque cook-off at the Texas State Fairgrounds. More than 90 teams competed for the title of best barbeque, but the real winners were area college students, as the proceeds will fund Texas scholarships. Last year, $2.6 million was raised by Rodeo Austin to help 140 students pay for college.
The Canadian Professional Rodeo Association rejected the city of Edmonton's bid to keep the Canadian Finals Rodeo in the city past 2016. The rodeo has taken place in Edmonton for the past 43 years, but the CPRA has opened a request for proposals from other Canadian cities. Edmonton will now have to compete against cities like Calgary and Saskatoon for the next 10-year contract. The final scheduled CFR in Edmonton will take place in November.
Three PRCA members – team roper Brent Romick, bull rider Marshall Smith and saddle bronc rider Colin Stalley – are part of an advertising campaign for Wahl Home Products grooming kits. The trio appears in a video on Wahl's website for the "Real Guys" promotion. It can be seen at www.grooming.wahl.com/community/real-guys.
Courtesy of PRCA