News and Notes from the Rodeo Trail, Oct. 24
by Tracy Renck | Oct 24, 2016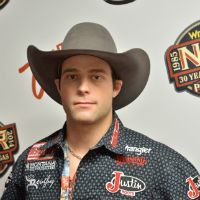 The bullfighters, barrelman and pickup men for the Dec. 1-10 Wrangler NFR have been selected. Bullfighters Dusty Tuckness and Cody Webster return for the fourth straight year together, and will be joined by Nathan Jestes, who's making his WNFR debut. It's the eighth consecutive trip for Tuckness, and the fourth for Webster. John Harrison makes his third trip as barrelman – he also went in 2013 and '15. Chase Cervi makes his third-consecutive appearance as a pickup man, and fourth overall. He's joined by Gary Rempel, who's making his ninth WNFR trip, and first since 2013. Josh Edwards is the alternate pickup man – he worked the WNFR in 2014.
Stan Branco, a 2013 qualifier for the WNFR as a steer wrestler, is out indefinitely after suffering a torn ACL in his right knee at the rodeo in Henderson, Texas, Oct. 15. He is scheduled for a follow-up examination with Dr. Tandy Freeman in Dallas.
Australian bareback rider Anthony Thomas is facing surgery next month to repair an injury to his left hip.
On Oct. 19, the Canadian Professional Rodeo Association and Edmonton Northlands negotiators announced the Canadian Finals Rodeo will remain at its traditional home – Northlands Coliseum. The 2016 version of the rodeo will take place Nov. 9-13. "We're happy to be back," said CPRA Canadian Finals spokesman Jeff Robson in a press release. "We've enjoyed 43 great years in Edmonton and we're excited the partnership doesn't have to end. We're eagerly anticipating a future with Northlands as we extend our CFR contract for two more years."
Southeastern Oklahoma State University is poised to induct its inaugural Hall of Fame class when it enshrines rodeo stars Roy Cooper, Tee Woolman, Betty Gayle Cooper Ratliff, and Caryn Standifer Nov. 4 at 6 p.m. (CT) in the Visual and Performing Arts Center on the Southeastern campus.
The Reno Rodeo Foundation is accepting online applications for its annual college scholarship program for high school students graduating in Northern Nevada. Over the years, the foundation has helped hundreds of students in furthering their education. The online application deadline is March 22. For information, email info@renorodeofoundation.org. To apply, visit www.renorodeofoundation.org.
Three new directors were recently elected to join the Pendleton Round-Up board, and Bill Levy was affirmed for a second term as president of the rodeo. According to a news release from the Round-Up, Berk Davis will serve as the arena director, Tim Smith will head up the programs and ushers, and Jason Graybeal will handle office, tickets and retail. Graybeal also was elected treasurer for the nonprofit organization.
California Rodeo Salinas welcomed three new directors to the board Oct. 20. Adam Jacop, Matt Jenkinson and Tonya Linares were present at the annual Stockholders Dinner to accept their new titles and silver badges. Three directors – Bill Grainger, Mike Martin and Mark Schmidt – also moved to the designation of advisory director after providing decades of service on the board. Mike Scarr continues as President for his second and final year of office, along with the other officers: First Vice President Brent Eastman, Second Vice President Dave Pedrazzi, third Vice President Fred Hooker, Treasurer Tom Nielsen and Secretary Steve Davis.
On Oct. 20, the RAM Prairie Circuit Finals Rodeo opened its night with the past meeting the future. As part of the three-day rodeo, "Living Legends" were honored for their contributions to the Prairie Circuit and the sport of rodeo. This year, ProRodeo Hall of Famers Ote Berry, four-time steer wrestling world champion of Checotah, Okla., and Roy Duvall, three-time steer wrestling world champion, were the honorees. "The Living Legend award (winners are) people who have made significant contributions to professional rodeo," said Mike Anderson, Stephens County Fairground and Expo Center director.
Courtesy of PRCA