North Little Rock Welcomes the Stars of the PBR
By: Heather Croze
March 09, 2017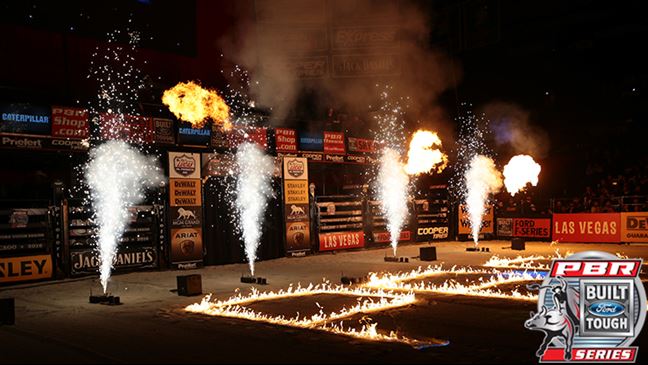 PUEBLO, Colo. – For the second consecutive year, the 'toughest sport on dirt' returns to North Little Rock, Arkansas, when the PBR (Professional Bull Riders) Bad Boy Mowdown, part of the elite Built Ford Tough Series (BFTS), stops at Verizon Arena, Friday and Saturday, Mar. 10-11.
For two nights, the PBR's Top 35 bull riding superstars will take on the fiercest bovine athletes in the business, hanging tough to make the 8-second whistle in hopes of winning a share of the $140,000 total purse and valuable PBR world standings points, which count toward the overall $1 million 2017 PBR World Championship title.
Scheduled to compete in North Little Rock, are reigning PBR World Champion Cooper Davis as well as Arkansas cowboy Chase Outlaw representing the home state.
Outlaw is on a tear to start the season as the Hamburg, Arkansas, native has finished in the top-10 in four of the seven events he's competed in. He's earned two round wins while riding 11 of the 22 bulls he's gotten on.
Also, scheduled to appear are PBR World Champions J.B. Mauney (2013, 2015), Silvano Alves (2014, 2012, 2011) and Mike Lee (2004), along with young guns Derek Kolbaba and Koal Livingston.
All 35 cowboys will ride in Rounds 1 and 2 on Friday and Saturday. After Round 2 on Saturday, the two-day scores will be added together and the 15 men with the highest cumulative scores will immediately return for the Built Ford Tough Championship Round. The event winner will be the rider who has performed the best and earned the most world standings points throughout the weekend.
The bull riding action starts at 7:45 p.m. on Friday and 6:45 p.m. on Saturday. Tickets for the two-day event range start at $18 and are on sale now. Tickets are available at the Verizon Arena Box Office, all Ticketmaster outlets, online at ticketmaster.com, or via phone at 800-732-1727.
The Bad Boy Mowdown is the 10th stop on the 2017 Built Ford Tough Series schedule. The season kicked off Jan. 6-8 in New York City at Madison Square Garden and will conclude at the PBR Built Ford Tough World Finals in Las Vegas on Nov. 1-5, taking place at T-Mobile Arena. After five days of competition, the 2017 PBR World Champion, the bull rider who earns the most PBR world standings points during the season, will be crowned and receive the coveted $10,000 World Championship belt buckle and a $1 million bonus.
The BFTS is televised every week on CBS, CBS Sports Network – the home of the PBR – and networks around the world. BFTS telecasts are produced for the PBR under a multi-year agreement with David Neal Productions, a Los Angeles-based production company led by 34-time Emmy® Award winner and Peabody Award winner David Neal, who serves as executive producer.
© 2017 PBR Inc. All rights reserved.