O'Connell Keeps Rolling at Puyallup
by Tracy Renck | Sep 11, 2016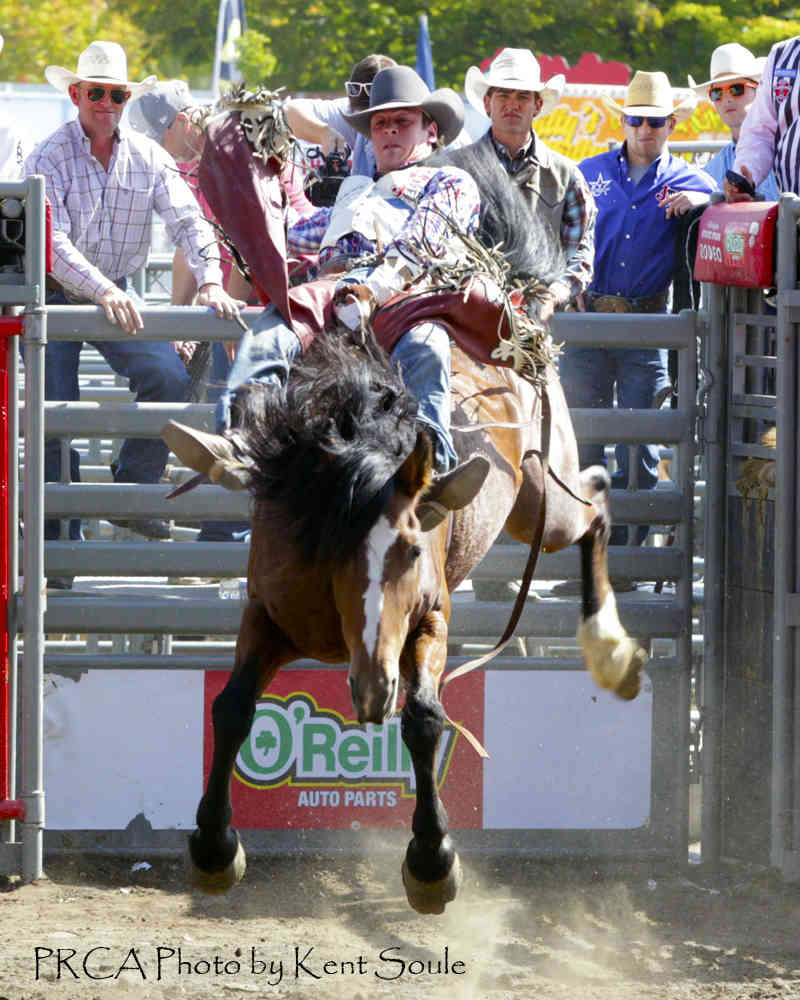 PUYALLUP, Wash. – This has been a dream season for bareback rider Tim O'Connell.
The Marshall, Mo., resident didn't come back to reality Sunday.
O'Connell won the Justin Boots Playoffs at the Washington State Fair and Rodeo with a score of 249 points in the three-head average.
"I've been to this (the Justin Boots Playoffs in Puyallup) twice and I had never made it to the final four," said O'Connell, 24. "This is a very big win. It's definitely right up there as one of my biggest wins of my year. The playoffs have the top 24 guys in the world competing against each other and that's a big accomplishment to knock this off my bucket list."
O'Connell, who has won 13 rodeos outright this season, was first in the Sept. 6 WEATHER GUARD® PRCA World Standings with $153,181. He will add $5,922 to that total as that's what he earned in Puyallup.
O'Connell clinched the average title with an 83-point ride on Growney Brothers Sacred Nation in the finals. O'Connell edged Teddy Athan by one point in the average.
"I've never even heard of that horse before to be honest with you," O'Connell said. "It can work out both ways if you don't know a horse and it worked out pretty good for me (Sunday)."
Although O'Connell's ride wasn't tops in the finals – that honor went to Jessy Davis who had an 86-point ride on Calgary Stampede's Saturn Rocket – it was perfect for him at that moment and time.
"She came out and hit really hard and kind of hit me in the back and made me kind of stand up on my spurs and then she just kind of started setting up and getting really flashy," O'Connell said. "When she hit me like that it got me pretty far ahead of her so I was able to kind of showoff and get things rolling right away and finish the ride just as strong as I started it."
Before the regular season concludes Sept. 30, O'Connell will compete in five more rodeos, and he doesn't plan on letting up at all.
"I want to finish strong," O'Connell said. "Then I'm going to get back in my workout program with my trainers at home. I want to be ready to rock and being ready for 10 days at the NFR."
O'Connell is headed to his third consecutive Wrangler National Finals Rodeo presented by Polaris RANGER. He finished a career-best fourth in the world standings a year ago.
Other winners at the $272,829 rodeo were steer wrestler Dakota Eldridge (13.5 seconds on three head), team ropers Kaleb Driggers/Junior Nogueira (21.3 second on three head), saddle bronc rider Zeke Thurston (249 points on three head), tie-down roper Cory Solomon (28.5 seconds on three head), barrel racer Ivy Conrado (44.34 on three runs) and bull rider Jeff Askey (238.5 points on three).
For more coverage of the Justin Boots Playoffs at the Washington State Fair and Rodeo, check out the Sept. 23 issue of the ProRodeo Sports News.
Courtesy of PRCA