Patterson Captures First San Antonio Win
by Justin Shaw | Feb 28, 2016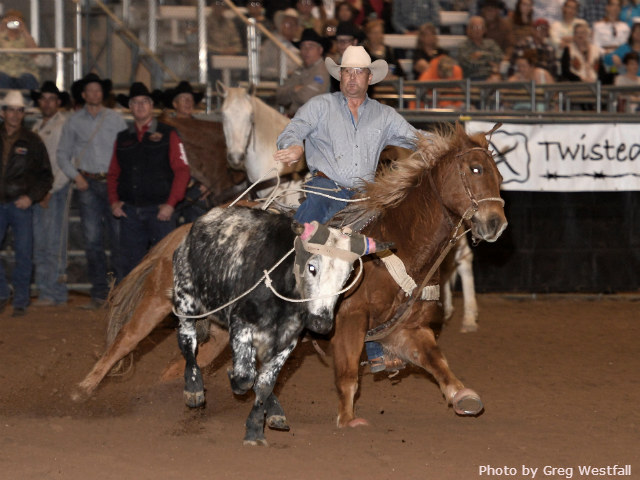 SAN ANTONIO, Texas – Rocky Patterson has won a lot of steer roping buckles in his 24-year PRCA career, but few compare to the hardware he captured Sunday.
The 50-year-old from Pratt, Kan., took the San Antonio Stock Show & Rodeo steer roping title with a time of 33.4 seconds on three head.
"This is one of the buckles that you want to win," he said. "This is a super rodeo, and it's phenomenal to show up and rope for that kind of money. The money has gotten better for us in a lot of places, but nothing compares to here."
After only earning a total of $366 in the first two rounds, Patterson placed second in the third round with a 10.0-second run, which clinched the average title by 1.1 seconds over J. Tom Fisher.
It was not only the first time Patterson left San Antonio with a championship buckle, but the first time he'd had any kind of success there.
"They've had steer roping at this rodeo for six years, and I didn't realize until today that it paid money," he said with a smile. "I've never done well here, and I think I earned one small check in all the previous years. I just bought the horse I used today, so maybe he was the difference."
It was the first rodeo for Patterson and his new horse, 11-year-old Buster, and it couldn't have gone much better.
The win will move the three-time world champion from 15th to near the top of the world standings, but he isn't too worried about that.
"This win gives me a good boost and some confidence in a new horse, but it's only February, and they don't crown a world champion until November," he said. "But this large check will make it feel like a lot shorter of a drive home than usual."
It was a win that means a lot to Patterson, as he puts a San Antonio title right at the top of the list of rodeos a steer roper can win.
"As a steer roper, when you start talking about the three best rodeos it's Pendleton, Cheyenne and San Antonio, and this is the first time I've won at any of them," he said. "I don't have expectations – I just show up and rope the way I'm supposed to, and if it's good enough to win something they'll send me a check."
Patterson recently returned to Pratt (Kan.) Community College as the head rodeo coach. He held the position from 1991-2000, and after a 15-year hiatus, is back. He hopes this big win for him is something that will rub off on his pupils.
"Hopefully they can see that if an old fat guy can work hard enough to win something, they can too," he said.
While Patterson took home the buckle from San Antonio, he wasn't the steer roper who walked away with the most money.
J. Tom Fisher, the world standings leader, placed in two rounds and was second in the average, earning a total of $22,847. Marty Jones, who finished fourth in the average, earned $15,171.
For more coverage of the San Antonio Stock Show & Rodeo, check out the March 11 issue of the ProRodeo Sports News.
Courtesy of PRCA