Patterson Stays in Driver's Seat at NFSR
by ProRodeo.com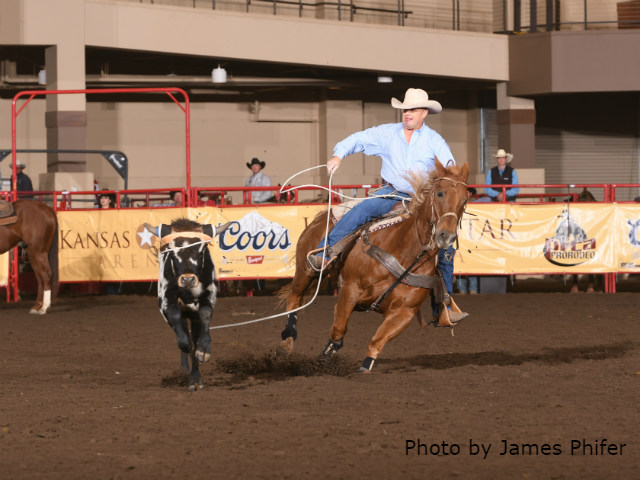 MULVANE, Kan. – Rocky Patterson defined efficiency on opening night of the 2016 Clem McSpadden National Finals Steer Roping Friday.
And that consistency placed a fourth gold buckle within reach for the Pratt, Kan., cowboy.
Patterson placed in all five rounds and won $22,099, the most of any contestant on Day 1 at the Kansas Star Arena.
"Things went good for me and I had some good steers," said Patterson, who won gold buckles in 2009-10 and 2012. "But, you can't just sit back and be in the average. It has been my experience watching rodeos for over 30 years that if you want to win a gold buckle you better be in line for things in Round 10."
After the first half of this year's NFSR concluded, Patterson was atop the WEATHER GUARD® PRCA World Standings with $107,016. He has a $22,742 lead over his traveling partner, Chet Herren. The NFSR concludes Saturday with the final five rounds.
Patterson's top two efforts Friday were a second-place finish in Round 1 (11.0 seconds) and third in Round 5 (9.4 seconds).
"My plan for (Saturday) is the same thing," said Patterson, who'll be 51 on Nov. 24. "You've just got to keep going at 'em. People can talk about how my experience here (at the NFSR) can help me, but those steers don't give a darn how old I am, and how many steers I've tied. It would be big if I could win another gold buckle, because it seems like I've worked harder for this one than the others, but this isn't over yet."
While Patterson showed why he's considered one of the best steer ropers of all time, Guy "The Legend" Allen gave the fans a blast from the past.
Allen is a 33-time qualifier for the NFSR, and has won 18 steer roping gold buckles, a PRCA single-event record. He last qualified for the NFSR in 2008, and now has added another line to his ultra-impressive resume.
Allen won Round 5 with a blistering 8.3-second time, tying the fastest run in NFSR history with Cash Myers (2006) and Jess Tierney (2015).
"That was special," said Allen, 58. "I had a hard night, but that sure made it a lot better. The rounds are tough and the guys here are the best in the world, and you can't hold back. I got a good one and he waited for me and it just worked."
JoJo LeMond set the pace early – winning Round 1 with a 10.2-second time and Round 2 in 10.1 seconds.
By virtue of winning Round 2, LeMond also won the Colby Goodwin Award. The Second Go-Round Award is given in honor of the late Goodwin, who passed away after being injured during the ninth round of the 1999 NFSR. LeMond's magic stopped in Rounds 3-5, as he recorded no times.
"I'm just taking it one steer at a time, and I'm going as fast as I can," LeMond said. "Things are going to go wrong when you go that fast, but when it does go right, it is worth more than $9,100."
Cody Lee ($21,152) and LeMond ($18,311) were the second and third high-money winners behind Patterson on opening night. Lee won Round 3 (10.2 seconds) and Vin Fisher Jr. (9.6 seconds) was the Round 4 champ.
For more in-depth coverage of the 2016 Clem McSpadden National Finals Steer Roping, see the Dec. 31 issue of the ProRodeo Sports News.
Courtesy of PRCA