PBR Announces Ty Murray Top Hand Award, bridging to Sport's Rodeo Roots
June 12, 2018
PUEBLO, Colo. – PBR (Professional Bull Riders) has added a new award to its four pillars of recognition given each year at the Heroes and Legends Celebration in Las Vegas, the league's annual awards that have traditionally honored those making significant contributions to the sport of professional bull riding.  The new Ty Murray Top Hand Award recognizes a rodeo athlete, bridging the PBR with its historical roots through its namesake known as the "King of the Cowboys."
The Ty Murray Top Hand Award will be presented at the PBR's annual Heroes & Legends Celebration during the 25TH PBR World Finals: Unleash the Beast in November. The Heroes & Legends recipients will be announced on June 19.
The new award honors a rodeo cowboy not eligible for the PBR Ring of Honor, who has succeeded at the highest level of the sport of rodeo, making significant and lasting contributions to enhance the sport. Based on traditional cowboy values, such as courage, pride, respect, and hard work, the award aligns with the goals of PBR's Founders and serves to protect and advance rodeo's heritage for generations to come.
Murray, a PBR Founder, Ring of Honor recipient, and now commentator for PBR on CBS, is a nine-time World Champion and inductee of the ProRodeo Hall of Fame. Murray dominated western sports, winning seven all-around titles by competing in all three rough stock events (bull riding, saddle bronc riding, and bareback riding).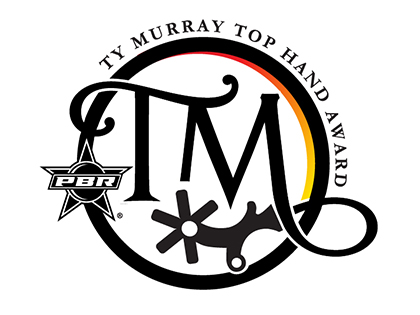 "I'm flattered and proud to have my name on this award, especially when you go through the list of guys on the ballot for the recognition. It's the Mt. Rushmore of rodeo cowboys," Murray said. "The guys who will receive this award are those who I've looked up to and followed my whole career or who have come after me. They have been and continue to be a source of inspiration to me for their guts and determination.
"Everything I've learned in life is from being a rodeo cowboy: go after what you believe in; try from the bottom of your guts; and don't ever give up. PBR has always embraced rodeo and its cowboys because their will to keep trying and fighting is what the sport was built on and is what keeps us going today. Refusing to quit can pull you through a lot of different things in life. It's gratifying to know this award will inspire the next generation of rodeo cowboys to pass these values to future generations."
The award, which comes as PBR has announced multiple alliances with pro and amateur rodeo associations and is streaming rodeo on the RidePass western sports digital network, will have a unique trophy:  a bronze replica model of the actual spurs Murray has worn the past 25 years, made by internationally renowned sculptor Jeff Wolf.
In addition to the Ty Murray Top Hand Award, PBR's annual Heroes and Legends Celebration also honors four special divisions of the professional bull riding community with the Ring of Honor Award, Brand of Honor Award, Jim Shoulders Lifetime Achievement Award and Sharon Shoulders Award.
The 2018 Heroes and Legends Celebration will be held at the South Point Showroom on Tuesday, November 6 and will be available for fans to view on RideTV as well as RidePass, the new digital network for western sports. To stream the gala, live or on-demand, visit RidePass.com or download the RidePass app in the iTunes App store (iOS) or Google Play store (Android).
Tickets for the 2018 PBR Heroes & Legends Celebration are on sale now and can be purchased via PBR Customer Service at (800) 732-1727 or by calling the South Point Showroom Box Office at 702-796-7111.
Tickets for PBR World Finals start at just $36 and are available by calling PBR Direct, or visiting AXS.com.
© 2018 PBR Inc. All rights reserved.