PBR Bucks into Jacksonville for First Time Since 2008
By: Heather Croze
March 03, 2017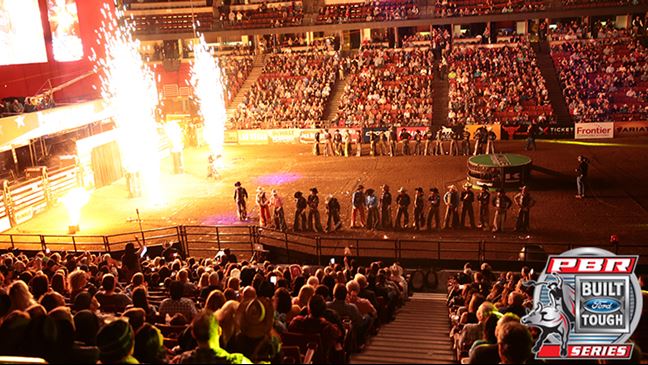 JACKSONVILLE, Fla. – The PBR (Professional Bull Riders) will bring its elite Built Ford Tough Series (BFTS) to Veterans Memorial Arena in Jacksonville, Florida, breaking an almost 10-year drought for the tour. The Jacksonville Invitational gets underway at 6:45 p.m. on Saturday, March 4 and at 1:45 p.m. on Sunday, March 5.
Fans will be treated to more than two hours of heart-pounding action, showcasing the classic battle of man vs. beast with world-class production, pyrotechnics and rock-n-roll. The PBR last brought a BFTS event to Jacksonville in 2008, but fans of this seaport city are very familiar with the bulls and bull riders of the PBR as the expansion tours, Real Time Pain Relief Velocity Tour and the Touring Pro Division have had events here.
The Jacksonville event will feature reigning PBR World Champion Cooper Davis along with two-time world champion J.B. Mauney and three-time world champion Silvano Alves. These three will ride alongside 2016 PBR World Finals Event Winner Ryan Dirteater and fan favorites 2008 World Champion Guilherme Marchi and 2004 World Champion Mike Lee.
The PBR's BFTS tour has stopped in Jacksonville a total of five times. Winners for this event have been:
2008 – J.B. Mauney
2006 – Justin McBride
2005 – Brian Courson & Justin McBride
2004 – Jody Newberry
2002 – Mike Lee
Red-hot riders Eduardo Aparecido, Chase Outlaw and Kaique Pacheco will all look to continue their winning ways. Aparecido has won two of the last three events while Pacheco garnered his first victory of 2017 last weekend in St. Louis and Outlaw has finished in the top five in the last two events he's competed in.
The Jacksonville Invitational will consist of three rounds of competition on Saturday and Sunday with the first two rounds featuring the top 35 bull riders randomly matched against the PBR's toughest bulls. The scores from the two rides will be combined and the top 15 riders will advance to the Built Ford Tough Championship Round following intermission on Sunday afternoon where they will compete with one more bull.
Tickets start at $15 and can be purchased in person at the Jacksonville Arena Box Office, online at ticketmaster.com, or by phone at 904-630-3900.
For the second year in a row, PBR Elite Seats will be available for those wanting a true VIP experience. Located in an exclusive section of the arena immediately next to the chutes and all the action, the PBR Elite Seats are priced at $250 each and will give fans the VIP experience of a lifetime; a pre-event reception with refreshments, backstage tours featuring a PBR 101 presentation, and meet-and-greet with top PBR stars. These seats are also available now.
The Jacksonville Invitational will air on CBS Sports Network on Sunday, March 5 at 10 p.m. ET. Fans can also watch each round of competition live on PBR LIVE.
PBR LIVE is available at no charge to all fans and media. Visit www.PBR.com/live to view. Fans can also watch all of the action via the PBR LIVE app, which is available for download on Google Play and iTunes.
The 2017 Built Ford Tough Series rolls on for its 18-state tour, culminating with the PBR Built Ford Tough World Finals in Las Vegas when the 2017 PBR World Champion, the bull rider who has earned the most PBR world points during the 2017 season, will receive the ultimate bull riding prize – the World Championship belt buckle and $1 million bonus.
The BFTS is televised every week on CBS, CBS Sports Network and networks around the world. BFTS telecasts are produced for the PBR under a multi-year agreement with David Neal Productions, a Los Angeles-based production company led by 34-time Emmy® Award winner and Peabody Award winner David Neal, who serves as executive producer.
© 2017 PBR Inc. All rights reserved.