PBR Cowboy Advantage: The Mind Game
By: Kristian Limas
July 12, 2017
PUEBLO, Colo. – Ryan Dirteater sat down and took a deep breath. After settling into his chair and adjusting his headphones, he focused on tuning out the still audible background noise of the busy room around him.
Dirteater than gave the indication he was ready to re-live the greatest moment of his bull riding career.
Brutus made a fake to the left, then went straight to the right and into Dirteater's hand. Dirteater kept his rhythm through the first big jump before staying low and to the front as Brutus reached the apex of his next jump.
All the while, he focused on timing his breaths.
Six Seconds.
Seven Seconds.
Eight Seconds.
Money.
Dirteater made his dismount and reached for the sky as he capped a perfect 6-for-6 performance and claimed the 2016 World Finals event champion buckle in Las Vegas.
The video then stops.
Dirteater leans back in his chair at the world-renowned IMG Academy in Bradenton, Florida, and waits for his test results.
Before the video session started he was wired up with sensors that monitored his vitals and kept track of his heart rate and breathing. The goal, as explained to him by IMG Academy's Head of Mental Conditioning Andrea Wieland, was to return to the mental state he was in during that championship ride and keep his breathing at an optimal level as indicated by a color.
"You work on your breathing with the visual and you work on trying to see yourself riding," Dirteater said. "(During) the breathing exercise we were shown four colors, and once you reach a certain color you try and keep it there. That's where your 'happy medium' is. Once you reach green, you have to try and stay there and stay focused.
"You just try to stay relaxed and calm and that maintains your performance color."
It's a unique program that many of the riders had never experienced before.
The Hulbert, Oklahoma, cowboy joined 2016 Rookie of the Year Jess Lockwood, 2015 Rookie of the Year Kaique Pacheco, three-time World Champion Silvano Alves, Rubens Barbosa and Keyshawn Whitehorsethis past April for a week-long training camp at IMG Academy.
IMG Academy, founded in 1978, is a destination for athletes, both amateur and professional, looking to raise their game. The state-of-the-art campus is a boarding school for elite athletes in training and a training center for some of the world's best sports stars.
Super Bowl Champion Russell Wilson, tennis legend Andre Agassi and United States soccer star Tim Howard have all trained at IMG Academy, and for the first time ever, the PBR's best completed an elite bull riding training camp that can take the sport into the future.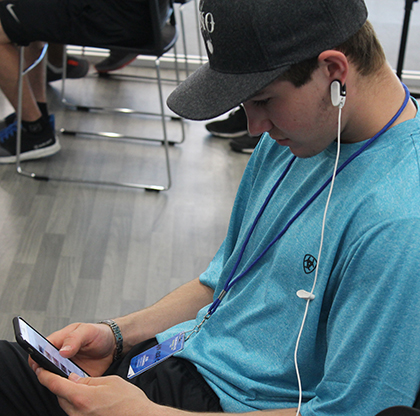 Along with traditional practices like weight training, recovery and nutrition, the team at IMG Academy also puts a special emphasis on mental training. That ranges from things like reaction training, sports psychology and even simple tasks such as breathing.
Wieland and her team developed a custom program for the cowboys. According to Wieland, mental conditioning splits into two spheres: mental skills and cognitive perception.
More simply, mental skills like reaction times and physiological techniques, including proper breathing and heart rate control, can do wonders.
The cognitive sphere is more easily described as simple confidence.
The special video sessions with riders tried were designed to recreate the mental state they were in during their best rides.
Wieland often brought up the idea of a "performance state" when describing mental training. It's a simple concept based around finding an athlete's ideal physiological state while performing.
"I think it gave them a sense that it's not just getting on a bull and hoping for the best," Wieland said. "But being mentally prepared and creating your 'performance state' so you can perform at your best."
A rider's head space can affect their physical performance and vice-versa, a concept she emphasized greatly.
"Your mental approach can impact your physiology, like if your heart rate is too high," Wieland said. "We can help them in controlling what we call that physiological arousal and physiological response."
The Mind Gym at IMG Academy is a state-of-the-art space devoted to sharpening an athlete's mind.
In the gym, coaches can run riders through a battery of tests and exercises meant to test things like reaction times, memory and control.
The light board was especially interesting, as many riders had never focused on trying to improve their natural reaction times.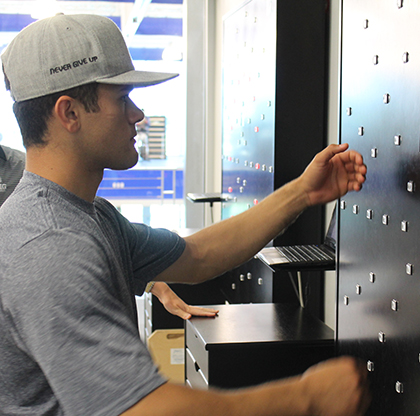 "We had the lights for our timing," Dirteater said. "Testing our reaction. So when you see that light go off, and it's memory too, you react. I'm pretty new to that stuff and it's like exercising your mind.
"I've read about that stuff before, but I had never done it on a consistent basis like they had here."
That's a problem Wieland sees a lot with athletes that come to the academy. Whether they had just never given the concept much thought or didn't have access the resources required to mental training, consistent mental training was something that was almost always lacking.
"We here at IMG Academy believe the mental aspect is extremely important when it comes to performance," Wieland said. "It's a difference-maker when it comes to winning or losing or being a champion or not."
Those championship moments also played a part in training.
"We had them hooked up to the bio feedback and they were watching their videos and rehearsing and trying to recreate their physiology during their best performances," Wieland said. "They can put themselves in that performance state."
It was a highly involved process that involved wiring riders up and immersing them in headphones.
While it's nearly impossible to fully recreate a championship-winning ride, Dirteater enjoyed reliving his career-defining World Finals performance from a new perspective.
"We watch video, a good video of us riding, and try to keep it at that same level the whole entire time," Dirteater said. "It's like trying to find your zone and relive that experience during that ride, that feeling."
That kind of training and reinforcement can help develop a good headspace for a rider, an idea of where their mind should be when everything goes right. It's a process that helps make good habits second nature.
"We're trying to make for them is what we call 'unconscious competence' and turn it into 'conscious competence,' Wieland said. "Knowing what it is that you do that helps you perform, then we're going to take it backwards again and turn it into unconscious competence again."
Of course, it's possible to overthink things as well.
Lockwood knows the mental game is crucial, but he relies on keeping his mind focused and eliminating the noise.
"If you're thinking about it a bunch, and thinking about all these sort of things, you're just putting more stress on yourself," Lockwood said. "You don't think about anything until you sit down on the bull in the chute."
Like any sort of training program, some things will help certain riders more than others. That's to be expected, and Wieland acknowledges that not everything will translate.
"None of the things that we do are one-size-fits-all kind of programming," Wieland said. "We're hopeful that we advanced the knowledge that they already had. They all had an idea of how important the mental game was."
Dirteater said he definitely walked away with a new appreciation for mental training.
It was something that was brand new to Dirteater and gave him better insight into what made him tick.
He was especially impressed with his mental rehearsal while re-watching his World Finals performance.
There was a distinct feeling Dirteater felt that week, and it's something he's been chasing ever since.
"I had that same rush," he concluded. "I felt just like I did when I got off. I had never done anything like that."
© 2017 PBR Inc. All rights reserved.