PBR Cowboy Advantage: Total-Body Strength
By: Kristian Limas
July 26, 2017
PUEBLO, Colo. – Early in the morning, six of the Built Ford Tough Series' best bull riders hit the field at IMG Academy before the Florida sun reaches its highest-baking point.
The group of cowboys have traded in their jeans, boots and cowboy hats for sneakers, athletic shorts and t-shirts.
Keyshawn Whitehorse is among the group. As one of the brightest prospects in the PBR, he jumped at the chance to come and train at IMG Academy.
The next hour on the field, though, will tax even elite athletes.
Scott Gadeken, the Head of Physical Conditioning at IMG Academy, runs the riders through warm-up stretches and then asks that they all lay down on the ground face up.
He calls this the "dead bug" position.
They are not relaxing. In fact, Gadeken reminds them to keep their back straight and ready. Their core muscles need to be active for what comes next.
A whistle blows and the riders hop back up as quickly as they can and immediately transition into a full on sprint for about 40 yards. All the while, Gadeken and his team are barking reminders at the riders.
Knees up.
Force down.
Gadeken knows none of these guys will become Olympic sprinters, or be asked to run the 40-yard dash at the NFL Combine. But he believes the exercise still serves a vital purpose for bull riders, one that might even save their life.
He believes it will help them get away from an angry, charging bull.
"Obviously, we're not worried about max-velocity with these guys because they're not ever going to have to run 40 yards or 100 meters," Gadeken said. "But that acceleration stuff that they need to get those first five or six steps once they jump off or get thrown off the bull having to get up, accelerate and getting the heck out of the way (is important)."
Gadeken had never trained somebody to run away from livestock before meeting some of the PBR's top cowboys. But his work with NFL stars and overseeing prospects at the NFL Combine gave him the idea that out-running a linebacker or cornerback could at least somewhat translate to out-running a 2,000- pound bovine athlete.
An exhausted Whitehorse still had nothing but great things to say about the program and the facilities at IMG Academy.
"The gym is by far one of the best gyms I've ever seen," Whitehorse said. "Along with the recovery area and all the different training areas, this is like another level of performance.
"They just don't have this anywhere else."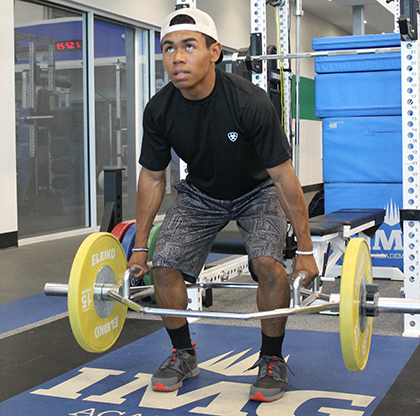 Whitehorse joined 2016 Rookie of the Year Jess Lockwood, 2016 PBR Built Ford Tough World Finals event winner Ryan Dirteater, 2015 Rookie of the Year Kaique Pacheco, three-time World Champion Silvano Alves and Rubens Barbosa this past April for a week-long training camp at IMG Academy in Bradenton, Florida.
IMG Academy, founded in 1978, is a destination for athletes, both amateur and professional, looking to raise their game. The state-of-the-art campus is a boarding school for elite athletes in training and a training center for some of the world's best sports stars.
2012 NFL Draft First Round pick Luke Kuechly, Japanese tennis star Kei Nishikori and Major League Soccer star DaMarcus Beasley have all trained at IMG Academy, and for the first time ever, the PBR's best completed an elite bull riding training camp that can take the sport into the future.
The strength training program and facilities at the academy are among the best in the world, and Whitehorse was nearly overwhelmed by the 13,500 square foot weight room that Gadeken and his team of trainers preside over.
Strength training is the cornerstone of any athlete performance program, but Gadeken quickly pointed out that hitting the weight room and building muscle is actually not often the goal.
According to Gadeken, an elite athlete already has developed the body they need to excel at their specific sport. Getting stronger is obviously a benefit, but Gadeken prefers to focus on "total-body strength."
The long-term goal isn't really about building bodies up. It's actually making sure they don't breakdown.
"Looking at the demands of the sport, and looking at potential injury things, we're really trying to fix them before they are broken," Gadeken said. "We're trying to develop a program to set them up for success. We want to build general strength, so we did a lot of movement stuff. We taught them how to move linear, lateral and a lot of hip mobility, balance and core work."
Gadeken actually had trained one bull rider for about a week years ago.
Gadeken was attending graduate school at Kansas State University in 1997 working as an assistant strength coach while completing his master's degree. One day a student from a club team on campus approached him at the rec center.
The student was actually an amateur bull rider, and he asked Gadeken if he could help him with general strength training. Gadeken agreed and built a list of exercises for the rider and met with him for a week before they went their separate ways.
20 years later, things came full circle. However, this time Gadeken spent a week training some of the best cowboys in the world.
"The PBR guys were our first experience with that group of athletes, and it was awesome to have them here," Gadeken said. "It was cool to teach them a little about the things we do here and show them that, 'Hey, you guys are big-time athletes and the best of the best in your respective field,' and show them what the day in the life for an NBA guy or an NFL guy or a Major League Baseball guy that comes here to train and get a similar experience."
Dirteater felt a difference immediately. Though he was an athlete in high school in Oklahoma and is used to most physical training, the work he was put through at the academy was something completely different.
"They've got professional athletes here, amateur-level athletes and they come here and train like this on a daily basis," Dirteater said. "If you want to take it to a different level, this is where you want to be."
Gadeken and his team spent days doing research on bull riding and hashing out what he wanted to focus on during the week he would have them. This included watching a lot of tape of some of their best rides, and their worst wrecks.
More importantly, Gadeken wanted to know more about injury trends and what parts of the body take the most punishment. Already knowing that some of the riders would be arriving with certain injury limitations, he designed the program around that.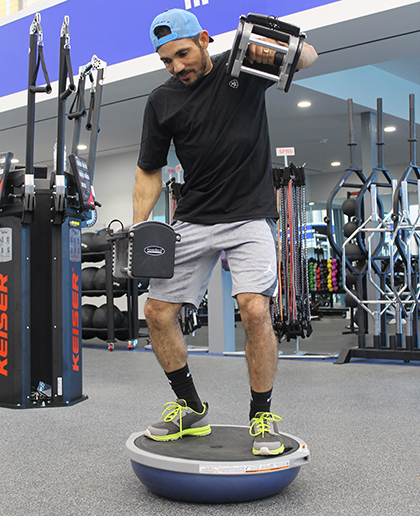 "Everybody comes in with different limitations and different injury histories," Gadaken said. "Things like that, and different goals, they need to improve on. So we try and tailor it as much as we could."
All of the riders, though, were put through their paces in the weight room. Every single, major muscle was worked on during the week in what Gadaken referred to as a "total-body lift." The riders cycled through deadlifts, bench presses and medicine balls.
"I knew all the conditioning and strength training was going to be here and be very professional and very good," Whitehorse said.
Lockwood, as one of the smaller riders of the group, was wary of adding unnecessary mass. The weight training was something he wasn't used too.
"It was different, I guess," Lockwood said. "You want to be small and as skinny as possible, but still be strong enough to ride."
Gadaken acknowledged that not every athlete has the same goals and that his team took all the input they could from the riders while they were on campus.
"Obviously with a guy like Jess, we're not trying to build world-class weightlifters or powerlifters or anything like that," Gadaken said. "Even if he stays the same weight, nobody is going to say, 'Man he'd be a better bull rider if he wasn't so strong.'"
That doesn't necessarily mean pure, physical strength, either.
Gadaken didn't care about how much weight the riders could bench press or how far they could toss a bale of hay.
The notion that a strong set of muscles can sustain more punishment was an idea he wanted to hammer home to the riders.
"I don't care if he puts on 10-15 pounds of muscle.  We can still get stronger. We can still get more flexible, and we can still get more stable. One of the best ways to do that is weight training in the weight room," Gadaken said. "There's a lot of those things we can do that are going to help them not only be stronger, but also prevent injuries.
"Because it doesn't matter how good you are. If you're injured and you're not going to get on a bull then at the end of the day that doesn't help you out too much."
The primary goal was to make sure the riders left IMG Academy with things they can work on at home and on the road.
Gadaken even included sets of body weight exercises that the riders could do in their hotel rooms on the road.
What was important, especially with such a small window of time to work with them, was creating habits and simply opening up their minds to the possibilities when it comes to training.
"(I learned) a lot of stuff," Barbosa said. "The mental training for concentration, everything was good for me."
Dirteater aimed even higher.
"They got the tools, the learning, the knowledge and the trainers to do it," Dirteater said. "The sky's the limit. I've gotten a taste of it. I always knew the sky's the limit for me too, but it's up to the individual."
© 2017 PBR Inc. All rights reserved.