PBR Mourns the Loss of R. Lee Ermey
By: Staff Reports
April 16, 2018
PUEBLO, Colo. – The PBR is saddened to learn of the passing of R. Lee Ermey, a Golden Globe-nominated actor best known for his role as Gunnery Sgt. Hartman in Stanley Kubrick's "Full Metal Jacket" and former staple of the PBR's television broadcast.
Ermey used to open each PBR television broadcast from 2011-2015 with a review of previous events and a preview of the upcoming action in his familiar and famous drill sergeant tone of voice.
"R. Lee Ermey was an incredible talent and we are honored to have him forever associated with PBR's television broadcasts on CBS and CBS Sports Network," PBR CEO Sean Gleason said. "He was the first voice that PBR fans heard after bringing TV production in-house under David Neal's leadership, and there was absolutely no better choice.  The PBR family will miss him."
Ermey's long-time manager Bill Rogin announced on social media Sunday that Ermey, whose nickname was "The Gunny," had passed away because of complications from pneumonia.
He was 74 years old.
Phrases such as "This is bull riding! and "This is the PBR!" became synonymous with the PBR's television broadcast openings during Ermey's time with the PBR.
Ermey became a face and voice of the PBR broadcast in 2011 when David Neal Productions, a Los Angeles-based production company led by the 35-time Emmy Award winner and Peabody Award winner David Neal, began producing the PBR's premier series telecasts.
"R. Lee Ermey was a distinct and unique character, his voice was instantly recognizable and perfectly embodied the toughness required to be part of the PBR," Neal said. "Lee was a genuine cowboy with great appreciation of the grit and danger of bull riding. Above all, he was a consummate professional and a proud veteran of United States Marine Corps. It was an honor and privilege to know him and we will miss him greatly."
These same videos would often be shown to sold-out arenas across the United States before competitions began as well.
In 2012, Ermey appeared in an open for the PBR World Finals produced by Creative Director Cory Kelley called "The Interrogation," which featured PBR riders Douglas Duncan, Silvano Alves and Luke Snyder.
Ermey – with a lie detector at his disposal – asked various questions such as "Have you ever been scared? Have you ever fear getting back on that 2,000-pound bovine? Are you lying to me? Are you scared of the kiddy rides at the local county fair?"
"R. Lee loved the PBR. Period," Kelley said. "Our small talk about PBR riders before voiceover sessions ended up lasting longer than the recording session itself."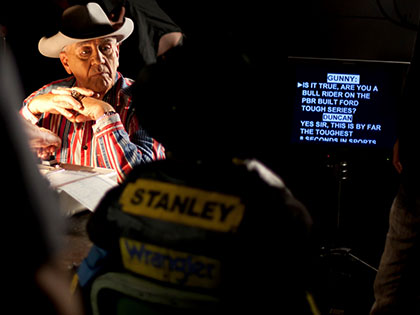 A veteran of 60-plus feature films, Ermey was best known for his Golden Globe nominated role as Gunnery Sergeant Hartman in "Full Metal Jacket." He also gained additional popularity in the 2000s as the voice of the character of Sarge in the "Toy Story" series. Ermey served as the host of "Mail Call" for eight seasons and "Lock N' Load with R. Lee Ermey," on The History Channel.
Ermey also had several voice credits, including "The Grim Adventures of Billy & Mandy," "SpongeBob SquarePants," "The Simpsons," and "Family Guy."
Raised on a farm in Emporia, Kansas, Ermey had experience breaking horses, raising cattle and could always be found wearing a pair of cowboy boots.
"I have always loved the PBR and I am a huge fan," Ermey said in 2011. "When they approached me about coming on board, it was a match made in heaven. It's a no brainer.
"This sport is all about confidence. If you've got it, you can win," he added. "Man versus beast. These boys are the best of the best."
Ermey was in the Marine Corps for 11 years, including two as a Drill Instructor. He did a 14-month tour of Vietnam, and two tours in Japan. He was medically retired with the rank of Staff Sergeant in 1972. On May 17, 2002, he received an honorary promotion from the Commandant of the Marine Corps to Gunnery Sergeant, becoming the first retiree in the history of the Marine Corps to be promoted.
Funeral arrangements are pending.
© 2018 PBR Inc. All rights reserved.