PBR Partners with Ultracast to Stream Big Sky in 360 Virtual Reality
By: Jose Antonio Hernandez
July 26, 2017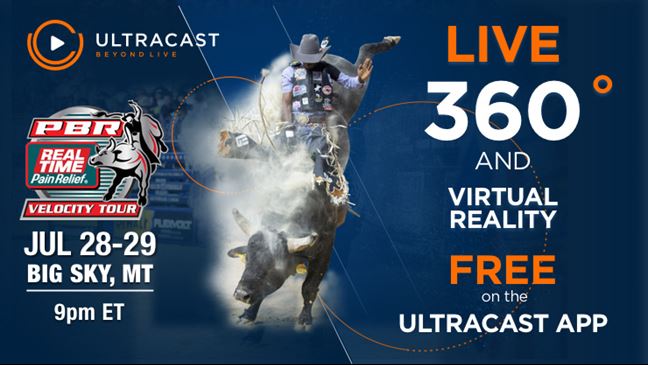 PUEBLO, Colo. – Bringing bull riding fans even closer to the action, Professional Bull Riders (PBR) and Ultracast will partner to stream this weekend's PBR Real Time Pain Relief Velocity Tour event (July 28-29), live in 360˚ and Virtual Reality from Big Sky Town Center in Big Sky, Montana. Both nights of competition will stream at 9 p.m. ET, exclusively on the Ultracast App (www.ultracast.com/app).
Ultracast will put viewers right into the action with a multi-camera stream of the event.
"We're thrilled to provide our passionate fans with the first ever full-event 360˚ and VR experience for a PBR competition, providing viewers with an inside look of the raw power and athleticism of our bovine and cowboy athletes, amid the sensational beauty of Big Sky, Montana," said Chad Blankenship, SVP, PBR.
Dmitry Kozko, CEO of Ultracast, echoed the enthusiasm of the streaming and said: "Our partnership with PBR is another example of how we can give fans more personal and immersive experiences, while also continuously providing new and engaging content to Ultracast's current fan base."
Top riders scheduled to compete in Big Sky include reigning PBR World Champion Cooper Davis, 2016 Rookie of the Year Jess Lockwood, three-time PBR World Finals event winner Robson Palermo, 2012 PRCA champion bull rider Cody Teel, 2009 Rookie of the Year Cody Nance, Derek Kolbaba, Chase Outlaw, Matt Triplett, Stormy Wing, Stetson Lawrence and the newly minted PBR Australia Champion Troy Wilkinson.
Available for iOS and Android devices, fans simply need to download the Ultracast app in the App store or by visiting www.ultracast.com/app.
© 2017 PBR Inc. All rights reserved.