PBR Returns to Colorado for the Rumble in the Rockies
By: Heather Croze
June 27, 2017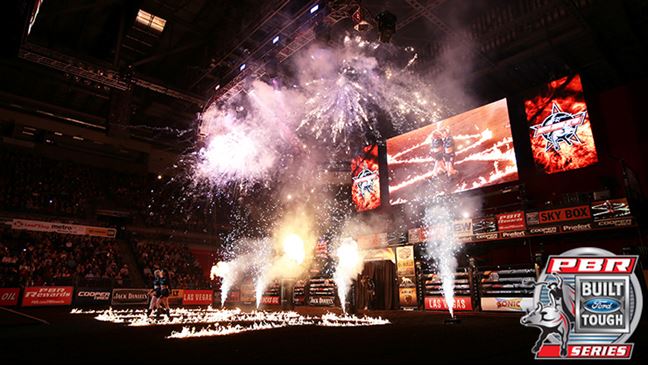 PUEBLO, Colo. – For two days in late September and early October, the PBR's (Professional Bull Riders) bravest and toughest athletes will arrive in Colorado Springs for the Rumble in the Rockies event at the Broadmoor World Arena.
Tickets are on sale now for one of the Built Ford Tough Series' final four events before the 2017 PBR Built Ford Tough World Finals, which means the already intense competition will heat up considerably. The Rumble in the Rockies will begin at 7:45 p.m. on Saturday, September 30, and at 6:45 p.m. on Sunday, October 1.
The 2016 winner in Colorado Springs, Joao Ricardo Vieira, will be back to defend his title along with five PBR World Champions. The 2016 PBR World Champion Cooper Davis, two-time PBR World Champion J.B. Mauney, three-time PBR World Champion Silvano Alves (2011, 2012, 2014), Guilherme Marchi (2008) and Mike Lee (2004) will all be competing. While young guns Derek Kolbaba and Jess Lockwood look to continue their epic sophomore seasons.
Past winners in Colorado Springs include:
– Joao Ricardo Vieira (2016)
– Rubens Barbosa (2015)
– Renato Nunes (2014, 2012, 2010)
– Robson Palermo (2011)
– Cody Nance (2009)
– Adriano Moraes (2005, 2004, 2002, 2001)
– Wiley Petersen (2003)
– Justin McBride (2001)
The format for the two-day event is simple, each bull rider will ride one bull each on Saturday and Sunday. The top-15 bull riders with the best scores after the two rounds will come back for the Built Ford Tough Championship Round on Sunday afternoon.
CBS Sports Network will broadcast Round 2 and the championship round on Sunday night, airing at 6:00 p.m. ET on October 1. Fans can also watch each round live on PBR LIVE and the PBR LIVE app. PBR LIVE is available at no charge to all fans and media. Visit PBR.com to view. Fans can also watch all the action via the PBR LIVE app, available for download now on Google Play and iTunes.
Tickets start at $15 and are on sale now at the Broadmoor World Arena box office, online at Ticketmaster.com or by calling PBR customer service at 1-800-732-1727.
The PBR Elite Seats will be made available for the second year, and are for avid bull riding fans who want a behind-the-scenes look at the world's premier bull riding circuit. These tickets offer premium seats and the VIP experience of a lifetime, including early entry; a catered reception; 60-minute backstage tour by a PBR Host, featuring a PBR 101 presentation and a visit with the sport's fiercest bulls; and the opportunity for photos and autographs from top PBR stars.
After the event, PBR Elite Seat holders also will be given premium dirt access, where they can get their complimentary 8 Seconds PBR program, Elite Seat lanyard and other memorabilia autographed by the Top 35 bull riders in the world.
The PBR Elite Seats are available for both days for $300 and can be purchased by contacting the PBR Customer Service Department at 800-732-1727.
The Rumble in the Rockies will be the 23rd event on the 2017 PBR BFTS schedule. The season consists of 26 stops, traveling to such cities as Chicago, New York, Anaheim, California and Dallas. It will climax with the PBR Built Ford Tough World Finals at Las Vegas' T-Mobile Arena on Nov. 1-5, when the 2017 PBR World Champion, the bull rider who earns the most world standings points during the season, will receive the coveted World Championship belt buckle and $1 million bonus.
The BFTS is televised every week on CBS, CBS Sports Network and networks around the world. BFTS telecasts are produced for the PBR under a multi-year agreement with David Neal Productions, a Los Angeles-based production company led by 34-time Emmy® Award winner and Peabody Award winner David Neal, who serves as executive producer.
© 2017 PBR Inc. All rights reserved.