PBR Returns to Oklahoma City January 2017
By: Jordan Johnson
July 19, 2016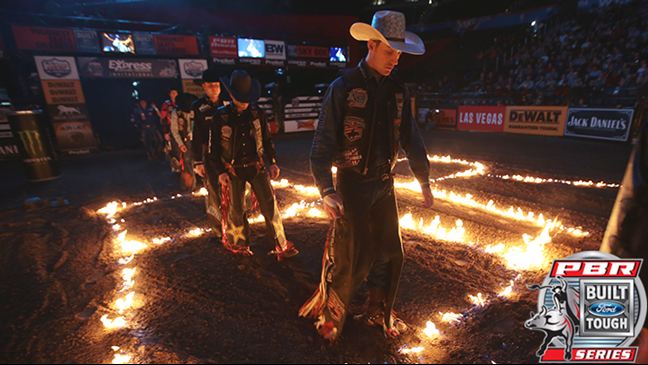 PUEBLO, Colo. – The PBR (Professional Bull Riders) will buck back into Oklahoma City, Oklahoma, in 2017 as the Chesapeake Energy Arena welcomes the elite Built Ford Tough Series (BFTS) Express Employment Professionals Invitational for the 18th consecutive year.
With an impressive influx of young talent taking on determined veteran riders, the PBR is currently enjoying one of the tightest championship race in its history. Viewership of the PBR on CBS is up +20% this season at the summer break, according to Nielsen, and the sport has set 10 local attendance records.
Going up against the rankest bulls in the business, the Top 35 bull riders in the world will vie for their piece of the $140,000 payout in Oklahoma City. The toughest athletes in sports will face opponents 10 times their size through two days of action-packed 8-second rides and heart-stopping wrecks.
Competition will begin at 7 p.m. CT on Saturday, January 21 and at 2 p.m. CT on Sunday, January 22. Tickets for the Express Employment Professionals Invitational are on sale now and start at $15. They can be purchased at the Chesapeake Energy Arena Box Office, all Ticketmaster locations, www.ticketmaster.com or by phone at 800.745.3000. PBRewards Members can earn PBRewards points and will receive access to the best available seats by purchasing their tickets through the PBR Customer Service Department at 800-732-1727.
For an enhanced PBR experience, fans can now purchase PBR Elite Seats, which provide a behind-the-scenes look into the toughest sport on dirt. This once-in-a-lifetime experience includes early entry; tickets to a premium seating section; a catered reception; a 60-minute, backstage tour by a PBR Host, featuring a PBR 101 presentation and visit with the sport's fiercest bulls; and the opportunity for photos and autographs from the top PBR stars. After the event, PBR Elite Seat ticketholders also will be given premium dirt access, where they can get their complimentary 8 Seconds PBR program, Elite Seat lanyard and other memorabilia autographed by the Top 35 bull riders in the world.
The PBR Elite Seats are available for $400 and also can be purchased through Ticketmaster or by contacting the PBR Customer Service Department at 800-732-1727.
The riders will face one bull each in Round 1 and 2. Immediately following Round 2 on Sunday, the riders' individual scores will be totaled and the Top 15 will advance to the Built Ford Tough Championship Round for one more ride and a chance at the $30,000 event title.
Oklahoma City is the 3rd stop on the 2017 BFTS schedule. The season will commence in New York City at the world famous Madison Square Garden on Jan. 6-8, 2017 and conclude at the PBR Built Ford Tough World Finals in Las Vegas on Nov. 1-5, 2017 at Las Vegas's new T-Mobile Arena.
The BFTS is televised every week on CBS, CBS Sports Network and networks around the world. Television viewership for PBR on CBS is up 20 percent this season compared to last year at this time, according to Nielsen. BFTS telecasts are produced for the PBR under a multi-year agreement with David Neal Productions, a Los Angeles-based production company led by 34-time Emmy® Award winner and Peabody Award winner David Neal, who serves as executive producer.
© 2016 PBR Inc. All rights reserved.