Peebles Captures Second Pendleton Title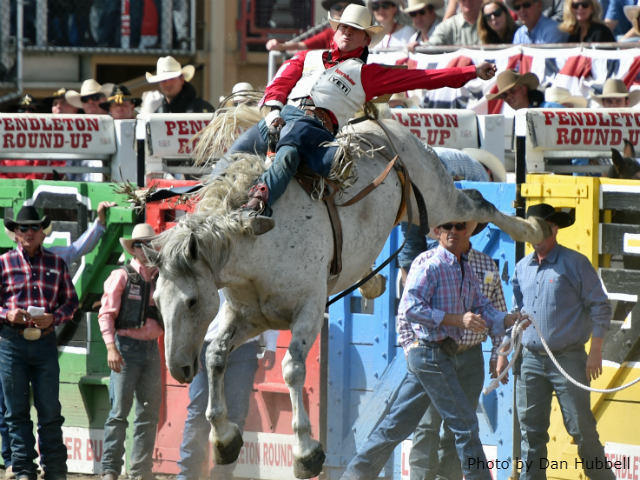 PENDLETON, Ore. – Bareback rider Steven Peebles wasn't happy about the way his 2017 season had gone when he got to the Pendleton Round-Up. He's thrilled with how he's finishing off 2017.
The 2015 world champion came up with a huge performance in the final round in Pendleton Sept. 16 to earn his second Round-Up title. Peebles says he's in a much different place in his career than when he won it the first time, in 2013.
"Both of the titles had different emotions for me," he said. "When I won it the first time I was in the prime of my career and I was rodeoing hard and making the Finals every year. This year, I'm not going to make the Finals because of some injuries and other things. I was getting a little bit down on myself because this has been one of my worst seasons, but winning the Pendleton Round-Up in my backyard to end the season is a neat feeling."
Peebles entered the week 24th in the WEATHER GUARD® PRCA World Standings, and will most likely not be making a trip to his eighth Wrangler National Finals Rodeo presented by Polaris RANGER.
The Redmond, Ore., cowboy entered the final day in Pendleton with nine of the best bareback riders in the world ahead of him in the race for the two-head average title.
However, Peebles' 89.5-point trip on Wayne Vold Rodeo's Mucho Dinero gave him 168.5 points in the average, edging Jake Vold by 1.5 and Orin Larsen by 2.5.
"I knew I was going to have to be 89 or 90 to pull it off, and it was going to be hard to come back and make up all those points," Peebles said. "But if I had to pick one out of the pen to get me there, he would've been the one."
With some of the best riders around still to go after Peebles, he didn't think his big ride would be enough.
"I honestly didn't think it was going to hold up, so I was just enjoying watching my buddies make good bareback rides after I went," he said. "I was going to be happy with whatever the end result was, but taking that victory lap was pretty cool."
The victory lap at the Pendleton Round-Up is unlike any other in ProRodeo. The winning cowboy must climb aboard a horse and race around the giant arena, which can sometimes be as eventful as winning an event.
"You do a lap and a half around this huge arena and it feels like you're on a race horse," Peebles said. "I was just hoping the horse wasn't going to trip because it would have been bad for both of us. Words don't explain what taking that lap feels like here."
Peebles, who says he briefly contemplated retirement during this season, assured he will be back in 2018. He says winning Pendleton – and the beautiful buckle that comes with it – gives him the boost he needs heading into a new season.
"The first Pendleton buckle is hanging right in the middle of my living room, and this one is going right next to it," he said. "This is my second favorite buckle in all of ProRodeo, next to my world champion buckle."
Other winners at the $501,684 rodeo were all-around cowboy Clayton Hass ($13,053 in steer wrestling and team roping), steer wrestler Hass (19.8 seconds on three head), team ropers Steven Duby/Trevor McCoin (22.7 seconds on three head), saddle bronc rider Brody Cress (168 points on two head), tie-down roper Shane Hanchey (27.8 seconds on three head), steer roper Will Gasperson (49.0 seconds on three head), barrel racer Kimmie Wall (57.32 seconds on two runs) and bull rider Ruger Piva (169 points on two head).
For complete coverage of the Pendleton Round-Up, check out the Sept. 29 issue of the ProRodeo Sports News.
Courtesy of PRCA