PRCA Honors Danny Dietz and Other Fallen Heroes
by ProRodeo.com | May 31, 2016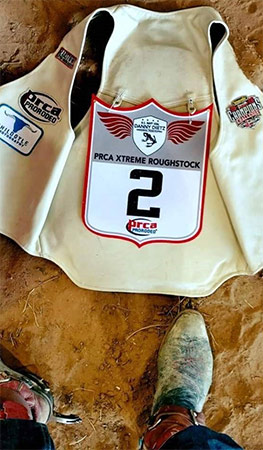 ROSENBERG, Texas – As the United States remembered its fallen military members over the Memorial Day weekend, a PRCA rodeo offered its own special salute to those killed defending America's freedom.
The U.S. Navy SEAL Danny Dietz Memorial Classic held its seventh installment May 28 at the Fort Bend County Fairgrounds.
This was the first time the event has been sanctioned by the PRCA, and is the first-ever bareback riding-only event in PRCA history. It was held in conjunction with a PRCA Xtreme Bulls Division 2 event. Anthony Thomas won the bareback riding with an 87-point ride on Pickett Rodeo's Hell Freckles, and Roscoe Jarboe was the champion of the Xtreme Bulls event with an 87-point trip on Rafter H Rodeo Livestock's Breaking Bad.
More than a dozen widows of Navy SEALs killed in action flew in to attend the event. Five-time WNFR bareback riding qualifier Clint Cannon and his brother, Kirby, were in charge of the livestock for the uniquely-formatted event, which is run by founder Dan Quinlan.
The rodeo featured 24 men in each event. Instead of the traditional format in which all riders from one event go at once, this rodeo switched back and forth between bareback and bull riding, with groups of eight from each event going alternately.
In between the professional rides, the crowd was entertained by mini bareback and mini bull riding competitions. All proceeds from the rodeo went to the Navy SEAL Foundation, and there was also a barbeque cook-off, which PRCA Commissioner Karl Stressman helped judge.
Danny Phillip Dietz Jr. was a United States Navy SEAL who was killed in the War in Afghanistan in 2005. He was posthumously awarded the U.S. Navy's second-highest award for valorous actions in battle, the Navy Cross, Sept. 13, 2006.
"The Danny Dietz Memorial Classic event this year has exemplified what Memorial Day weekend is all about," said Patsy Dietz, Danny's widow. "It has been an honor to have the PRCA joining us this year by bringing the all-American values of brotherhood, grit and patriotism of their sport. Seeing my late husband's name on the backs of the cowboys was a humbling experience. This weekend was about giving back to the Navy SEAL Foundation, and honoring our Fallen Navy SEALs. The PRCA has helped to make this possible."
Courtesy of PRCA