Proctor Puts Up a Touchdown in Vegas
by ProRodeo.com | Dec 08, 2016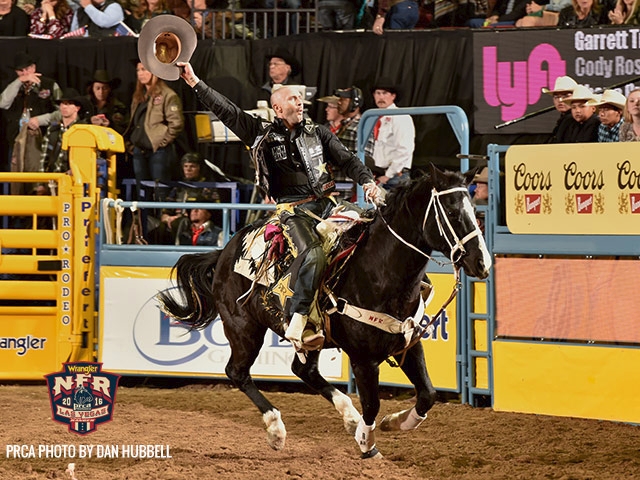 LAS VEGAS – Coming into the 2016 Wrangler National Finals Rodeo presented by Polaris RANGER, the question surrounding the bull riding was whether or not anybody could challenge two-time defending World Champion Sage Kimzey.
The answer to that question is the man who won the gold buckle in 2011 – Shane Proctor, the oldest bull rider in the field.
The 31-year-old has ridden all seven of his bulls, and split the Round-7 win three ways with WNFR first-timers Garrett Tribble and Cody Rostockyj.
Proctor rode for 85 points on Bar T Rodeo's Broken Arrow to earn his second round win of this WNFR, and also grab his seventh check in seven nights.
"Man, I've just been lucky, I guess, and drew lucky," Proctor said. "I had seen this bull a bunch, and felt pressured. Joe Frost won on him earlier this week, and it's been a great week and I want to keep that going."
Proctor, who entered Las Vegas ranked 15th in the world, leads the WNFR average by two rides over the field, and presents a potential problem for Kimzey. The deficit between the two, which was $90,000 when the WNFR started, has now been cut in half.
"That's cool, but it doesn't matter much yet," Proctor said of climbing to second in the world.
Tribble, who rode Salt River Rodeo's Big Jake, and Rostockyj, who was on Andrews Rodeo's Monkey Punch, had both struggled mightily in the first six rounds. Tribble hadn't stayed on a single bull, and Rostockyj had earned just two sixth-place checks.
"I hadn't been riding so good, but got it done tonight," Tribble said. "It's a great rodeo, and I love being here. I just take every bull one jump at a time. You have to learn to trust yourself since you got here."
"It's everything you expect it to be, and then some," Rostockyj said. "It's no different than a regular rodeo, and you just need to have the same mentality. We have seen these bulls all year. There are just more people and more money here."
Saddle bronc rider CoBurn Bradshaw, the 2015 PRCA/Resistol Saddle Bronc Riding Rookie of the Year, started slow at the WNFR. But he's now starting to heat up at the perfect time.
The 22-year-old from Beaver, Utah, scored 85 points on The Cervi Brothers' 2 Cookies to win Round 7, a night after he placed third.
He was familiar with the horse, who he rode during the All American Finals in Waco, Texas, in October.
"I was stoked to have him," Bradshaw said. "I guess I was prepared for him, and I tried to ride the same. It puts a little more confidence in you and makes you feel better when you've ridden one before."
Bradshaw is third in the world and sixth in the WNFR average after seven rounds, and is very much in striking distance of the gold buckle if a few things go his way.
"I'm just going to keep the ball rolling," he said. "Hopefully three more rounds of wins.
"I feel as good as I did the first day, really. Luckily, I'm not taking any hard knocks."
Bareback rider R.C. Landingham had a long journey to reach the WNFR. All of the tough times were worth it when he qualified this year, and he was all smiles after picking up his first go-round win in Round 7.
Landingham finished 16th in the world in 2013 and 2014, before finishing 19th in 2015. Now, he's winning WNFR go-rounds.
"This feels awesome," he said. "I came here hoping to get a few of those go-round buckles, and I've been struggling throughout the week, so to get one feels really good. I was talking about going to the South Point all day, and I just had a good feeling about tonight. My dad is flying in tonight, and I told him earlier today that he may have to just go straight to the South Point when he lands."
The 26-year-old from Hat Creek, Calif., saw his prediction come true when he emerged from a tough pen of horses to take the victory lap with an 84.5-point ride on Pickett Rodeo's Scarlet Fever.
Landingham's mom, Wendy, who has been battling cancer for several years, was in the arena Wednesday night to see her son win.
"She's on some pretty strong chemo, and she's worn out," he said. "But it means the world to me that she's here. It's a blessing."
Steer wrestler Dakota Eldridge wasn't having a WNFR up to the standards he set the first three times he'd competed at the Thomas & Mack Center.
The Elko., Nev., cowboy finished second in the world and won the WNFR average title in 2015, and finished in the top five in the world in 2013-14.
He kept a positive attitude through six tough rounds, and it paid off in Round 7.
"I just realized what I'm down here for, and what I do this for, and to just be thankful to be here," he said. "I try to think about all the positive stuff. If you're down on all the negative stuff you just have to get it out of your head and move on. It pays so much here, you have to have a good attitude and have fun and win as much as you can."
The win kept him in the world title hunt, as he moved to sixth in the world and fifth in the WNFR average race.
"The key tonight was just getting a good start," Eldridge said. "Everybody says that, but that's everything down here. I had Matt Reeves hazing for me just after he had a 3.8, and he did an awesome job."
Matt Sherwood and Quinn Kesler needed to make something big happen to stay in the hunt for the world title, and they did just that when they took the Round 7 win with a 4.1-second run.
Sherwood, a two-time world champion, and Kesler, a first-time WNFR qualifier, split the win in Round 3, and took their first solo victory lap Wednesday night.
The team faced some adversity in the first six rounds, as they had penalties in the first two rounds, and took no-times in Rounds 4 and 6. But Sherwood's experience kept them cool.
"You practice so hard to get here, and you have to back into the box with confidence every time," Sherwood said. "It's a lot harder here. When you're practicing, if you make a mistake you try again in 30 seconds. But here, you have to wait 24 hours. I woke up at 5 or 6 every morning this week – on the nights we've done well, and the nights we did poorly. It's a good week and a fun week, but we're here working for a living."
Kesler, who at 23 years old is 24 years younger than Sherwood, has taken the lead of the veteran he heels for.
"The first and second rounds, I roped some legs," Kesler said. "What keeps me grounded is that Matt sees the bigger picture – that helps.
"We haven't practiced every day, but we did practice a little bit the last two days. It's more about being positive, being aggressive and roping as fast as I can."
The pair each moved to seventh in the world standings, and are eighth in the WNFR average.
Matt Shiozawa, a nine-time WNFR qualifier and the 2011 WNFR average champion, has been around long enough to know that tie-down roping doesn't always go according to plan.
In Round 6, he lost his lead in the average when he took a no-time. In Round 7, he redeemed that with a round win after putting up a time of 7.3 seconds.
"(Round 6) was a fluke deal," he said. "I had a lot of scenarios on how to finish up the week. I was in good position in the average at the time, but you can't coast. I had a good one (Tuesday night) and the biggest thing is she didn't leave like I had planned and I kind of covered her up. Then my rope breaks, and it was just a series of unfortunate events."
He responded like a champion Wednesday, which moved him to fifth in the world and kept his hopes for his first gold buckle alive with his seventh career WNFR go-round win.
"This helps, and it changes your plan," Shiozawa said of the win. "I have played enough sports where I know a guy just has to put points on the board. Last night, I might have been a little over-aggressive, and tonight the goal was to put points on the board. You just have to win as much as you can."
Barrel racer Mary Burger entered the WNFR with a standings lead of $74,000 over the field, but was starting to hear the footsteps of several women after six rounds.
She retook control of her own destiny in Round 7, winning with a time of 13.58 seconds on her buckskin horse Mo.
"Mo was really running tonight," Burger said. "He is just able to cover a lot of ground. His first and second barrels were awesome, but he ran off of the third one quite a bit. But even so, he was running so hard that he clocked very well. I was happy with him."
The 68-year-old from Pauls Valley, Okla., bumped her lead back to $65,000 over the other 14 competitors with three rounds remaining, and is closing in on an improbable world championship.
"This year has been a storybook year, and I am at a loss for words about how wonderful it has been," she said.
In the all-around world title race, team roping header Dustin Bird's lead remains more than $9,000 over team roping heeler Junior Nogueira. Steer wrestler Clayton Hass has closed to within $18,000 of Bird, while 2015 World Champion Tie-down Roper Caleb Smidt lurks about $30,000 back.
The 58th annual Wrangler NFR continues Thursday with the eighth round at the Thomas & Mack Center. The action will be televised live and in HD on CBS Sports Net (DirecTV channel 221 and DISH Network channel 158) from 7-10 p.m. PT.
Courtesy of PRCA